"A good picture of the tech opportunities in the bank"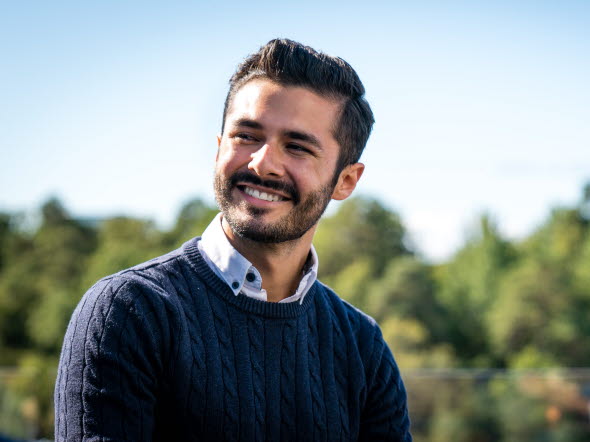 "The tech programme allowed me to get to know the company and see what opportunities exist in various parts of the bank. It gave so much more than if I were to have accepted a specific job directly," says system scientist Julius Bendezu, who participated in SEB's tech programme 2020.
Julius Bendezu was one of 19 participants from Sweden, Latvia and Lithuania who in September 2020 climbed onboard SEB's tech programme, which continued until March 2021. In parallel with this, the bank's international trainee programme also started, with 20 participants. The two programmes have many joint activities and tasks, giving their participants opportunities to get to know each other and form networks.
What prompted you to apply to SEB's tech programme?
"I wanted to get to know a company and was looking into trainee programmes, which are a good way to get introduced in a company. I saw that SEB offers a programme that focuses on the entire bank and provides opportunities to work with a real-life business challenge. That felt exciting."
What did you do during the tech programme?
"I spent about half of my time as a programmer in the area of authorisation systems. We developed a system that allows corporate customers to manage their staff and assign various authorisation levels.
"I spent the other half of my time on activities in the tech programme. This part of the programme was not so distinctly technical, but rather, much of the focus is on 'soft' aspects and provides a broader insight into the bank. The programme allowed me to get a good picture of the opportunities that exist and where I may fit in the future."
Is there anything you've been surprised you?
"Yes, that I so quickly was entrusted with and given responsibility for developing actual systems."
What is your advice for others thinking about applying for a tech position at SEB?
"If you are curious about how things work in a broader perspective and not only about strictly technical matters, this is an excellent programme. Don't be afraid to apply. Acceptances are based not only on your formal level of education, but also on your personal qualities."
About Julius Bendezu
Title: System Developer
Education: B.Sc. Systems Science, Stockholm University
Personal interests: I'm a bit of a technology nerd. I like gadgets, playing video games and programming during my free time. But occasionally I'll take a break and play guitar (classical and Spanish).
Stories from the Tech Programme