"Paved the way for recent law graduates in the finance sector"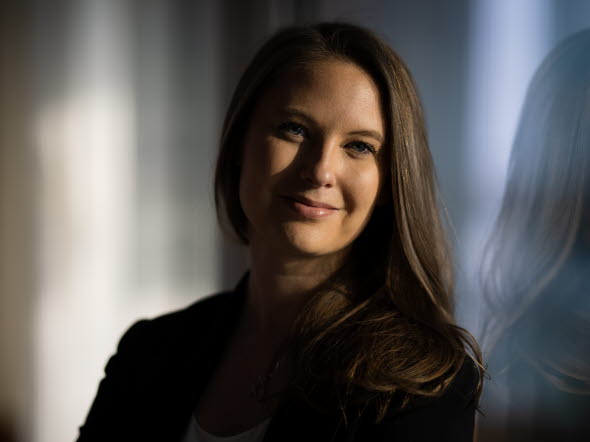 When Maria Sundström joined SEB she was something of a pioneer since she was among the first to take part in the Compliance Officer Trainee Programme.
Today, just over five years later, she is Acting Head of Strategy & Support Functions, Group Compliance.
"My role is unbelievably exciting and since we are a specialist function, I have quickly gained increased responsibility."
What is your background?
"I studied law at Stockholm University and joined SEB in September 2015, directly after I graduated. During my studies, I worked extra at a law firm and in the district court."
What made you as a lawyer choose a trainee programme at a bank?
"When I wrote my thesis, I did an internship at a law firm where I participated in a project on Swedish listed companies' codes of conduct. This work not only involved legal issues but also questions related to ethics and morals and how companies are perceived externally. A few months later when it was time for me to look for a job, I attended a seminar where SEB presented its Compliance trainee programme. It turned out that the experience I had gained during my thesis internship was a very good entry to the Compliance profession."
"What attracted me most about a trainee programme was the fact that it was an education. It felt exciting to learn more about the finance sector and the importance and role that law has there. Naturally, it was especially exciting that the training programme was totally new and those of us who took part were the first to complete it."
What is your role in the bank today?
"I am 'acting head' which means temporary, or acting, head of a team tasked among other things with formulating the business plan for SEB's compliance function. Our group is something of a staff function for compliance."
"Those of us who work with compliance often become specialised within specific regulatory areas that are relevant for the part of SEB's business that we work with. This can, for example, be regulations that affect our bank branches and work with private customers. If you belong to the team that works with corporate business, the regulations are specific for this. And as a specialist, you soon take on greater responsibility. If you are the person at the bank who knows most about a specific regulatory area, it will be to you that everyone turns when they need support, regardless of how long you have worked at the bank.".
Why is compliance a key function at the bank?
"A prerequisite for our entire business is that we comply with existing laws and regulations and so there must be a function at the bank to ensure compliance with these laws. Today I would say that we are just as much an advisory function as a controlling one. When a specific business or service is being designed we are often involved at an early stage and then we work in tandem with the people designing and selling the service."
"It is also clear that compliance is gaining increasing commercial significance. Customers must be able to rely on us to comply with applicable rules. If we don't, we lose their trust and they might change their bank."
Why is it important to have a talent programme?
"It's a very good way to attract talented young people to SEB since it offers a smooth transition from studying to working life. To be able to start your professional career with a year where you combine work and education is something I believe many people find very attractive. Speaking personally, it was also a very good way to get lawyers interested in the finance sector."
About Maria Sundström
Title: Acting Head of Strategy & Support Functions, Group Compliance.
Education: Master of Laws, Stockholm University.
Personal interests: Training, reading books, being out in the countryside and spending time with family and friends