SEB rewards sustainability in Estonian "Idols" for business ideas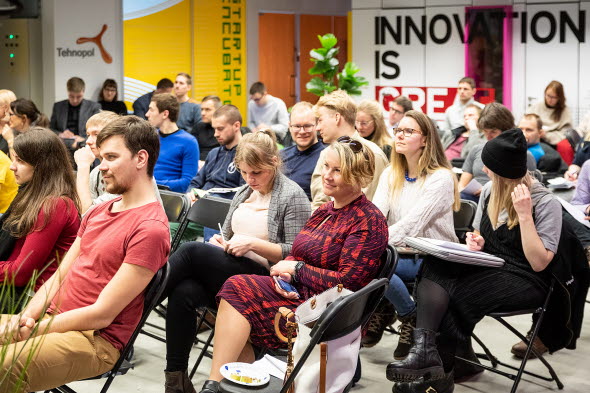 Brain Hunt, "Ajujaht" in Estonian, is both Estonia's largest competition for business ideas and a prime-time tv show. The concept has been running for over a decade, with SEB being involved from the start. In addition to contributing with jury members and mentors for the contestants, SEB awards a special prize for an idea that focuses on sustainability.
Business ideas that grow everywhere
In 2007 Brain Hunt was initiated by Enterprise Estonia, a national foundation that aims to develop the Estonian economy. Anyone with a business idea is welcome to apply to the competition and the top 30 entries are then selected for a development program, where they receive coaching and advice on how to move forward with their ideas.
"The program is characterized by a large degree of diversity, both when it comes to age and background among the participants. It goes to show that business ideas grow everywhere", says Evelin Allas, Communications Manager at SEB in Estonia.
After the development program, the final round of the competition is conducted in the form of a popular prime-time tv show, with a setup not completely unlike that of Idols. Step-by-step, the number of teams are narrowed down, until a winner is finally crowned.
The SEB award goes to …
Previously, SEB's prize has been titled Best Social Enterprise. Starting from 2021 the scope has, however, been broadened to Best Sustainable Entrepreneurship. Andra Altoa, Head of Strategy and Customer Experience at SEB in Estonia and one of the jury members at Brain Hunt, explains:
"Businesses play a vital role in shaping our common living conditions, but also our daily consumption habits. The teams in Brain Hunt have a unique opportunity to build forward-thinking values into their businesses, right from the start. This concerns both social and environmental aspects, which we wanted to highlight through our special SEB award."
The team who wins SEB's award receives €5,000 in prize money.
Meet one of the winners
In 2019, the SEB prize for Best Social Enterprise was awarded to Ave-Gail Kaskla-Kuprys' and her idea Võõras Sõber. The concept was about creating a digital counselling service, that employees who feel stressed or at risk of a burnout can turn to anonymously, to receive help at an early stage.