Building trust as mentors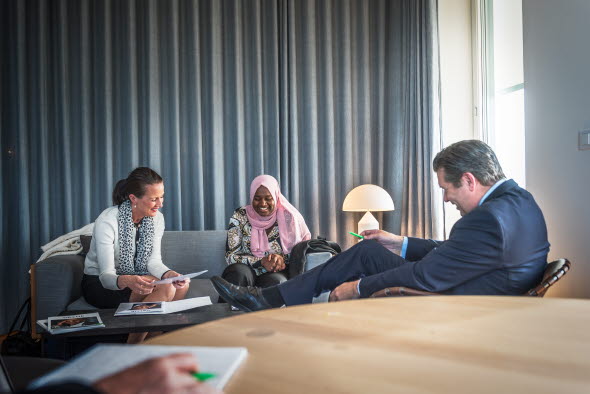 Since 1997, SEB has partnered with Mentor Sverige., Mentor Sverige is a foundation focusing on drug which offers schools different mentorship programmes, in order to help young people grow and strengthen their self-belief. prevention among youth, aiming to cre­ate relationships and build trust between young people and adults.
SEB employees are involved as mentors – either for individu­ally mentorshipsfor one young person, in or by engaging with several young people, through school visits classes on several occa­sions, or for just one day at a school. Students also get to visit SEB's offices, to and get a glimpse of whathow it might be like to work in a bank. Through Mentor Sverige, our employees are given the oppor­tunity to contribute to society, while developing themselves and their own leadership.
In 2018, SEB and Mentor Sverige have launched severaltwo new different programmes, among them: Mentor Boost,SEB Inclusion and Proffsmentor Entreprenörskap. SEB Inclusion teaches young people how to work against prejudice and create a more inclusive society for all. Proffsmentor Entreprenörskap shows where young people get to learn how to turn an idea into a company or employment. Every year, more than 20,000 young people participate in Mentor Sverige's various programmes. Our partnership with Mentor Sverige is part of our work with sustainable entrepreneurship.
Key figures (2020)
have participated in Parenting programme
have participated in the programme Mentor Boost
participate in Mentor Sverige's programmes every year.