International Trainee Programme
Do you want to challenge, disrupt and lead our company into the future? Then you should apply for SEB's International Trainee Programme.
The world has common challenges and we aim to be part of the solution. That is why we have great focus on sustainability and digitalisation when we shape the SEB of tomorrow. These focus areas permeate both our long-term strategy and all roles in our International Trainee Programme.
To be able to find new solutions, we need employees who challenge us and our ways of thinking. Do you want to join us and drive this journey of change with us?
From the outset, you will be hired for a specific role, which you will continue working with when the programme ends.
This is who we are looking for
We are looking for those who want to be involved, challenge and lead SEB into the future. To thrive with us, you should be passionate and humble, and have a desire to disrupt and drive change.
Our vision is to deliver world-class service to our customers. Our customers' high expectations for both digital services and sustainable solutions create the foundation of our business development and our offerings.
At SEB, we have been curious about the future for 165 years, and we want to build on that quality. That is why we are looking for people who are driven by commitment and curiosity, put customers first and challenge us and the industry to find new solutions. Qualities that fit well into our work culture are collaboration, inclusive work methods, ambition, an entrepreneurial approach and the courage to challenge and think new. Other important building blocks are creating and developing new networks and relationships.
General requirements
You should have a completed academic degree in Finance, Economics, IT or other relevant area. You must be fluent in written and spoken English. It is an advantage to have experience with project management or similar from your studies or previous work experience. It is also meritorious if you have studied or worked abroad. The same goes for extra-curricular work within, for example, customer service or other service areas.
Your profile
You have a very good social ability and a great interest in building relationships. You can lead others to achieve team results, are highly motivated, learn quickly and are always solution-oriented. You also have a good analytical, solutions-oriented mindset.
About the programme
SEB is a large, international company with more than 15 000 professionals. The programme is designed to give you a broad introduction to what it is like to work in a large and complex organisation. The programme includes roughly 20 positions. The majority of these are located in Sweden, but we also have some positions at our international sites.
The programme starts in September and runs for 9 months. You are hired into a specific role from the beginning. During the Trainee Programme, practical work is interspersed with training to give you the best possible conditions for development and to have an exciting career at SEB.
SEB's International Trainee Programme is a great way to kick-start your career. During your trainee year we will prepare you and give you the best tools to develop and take on the challenge to drive change. The programme is divided into three parts: work at your home department, job rotations and training.
Your role
You belong to a home team from the start. There you will get support and inspiration to grow and perform in your job assignment. Together with your manager you will plan rotations with other units and departments to get a broad understanding of what work is like in a large international organisation. You also have the opportunity to plan for an international internship at another SEB office for up to 4 weeks after graduating from the programme.
Training and collaboration
You will participate in learning activities, for example trainings in self-leadership, communication and negotiation. During your trainee period, you will spend a lot of time collaborating with other trainees from the Tech Programme as well as other colleagues in the bank. Cross-collaboration is a key competence that you will develop during the programme.
You will take personal responsibility and run collaborative activities as well as solve real business challenges and find solutions together with your colleagues. You will also learn - and influence - our culture, our values and our way of working.
Our recruitment process
SEB is a large global company with many career paths to consider. Think about why you are interested in our Trainee Programme and how you could contribute to our future success.
1. Let us get to know you
Now it's time for us to get to know you. In connection with your application you will be invited to psychometric tests, and if your profile matches what we are looking for, you will be invited to competency-based interviews.
2. Meeting SEB
We will invite a selection of our candidates to an "SEB Day" for inspiration and to meet former trainees and representatives from SEB. During that day, you will also participate in case-solving as part of our recruitment process. It will be an intense and fun day!
3. Interviews and maybe an offer
In connection with the SEB Day, there will be additional interviews during which the final candidates will meet hiring managers. If you are the right person for the role, you will in the next step receive a concrete job offer.
4. Welcome to SEB!
The Trainee Programme starts in the beginning of September with an introductory week at your home department followed by a common training week with the other trainees.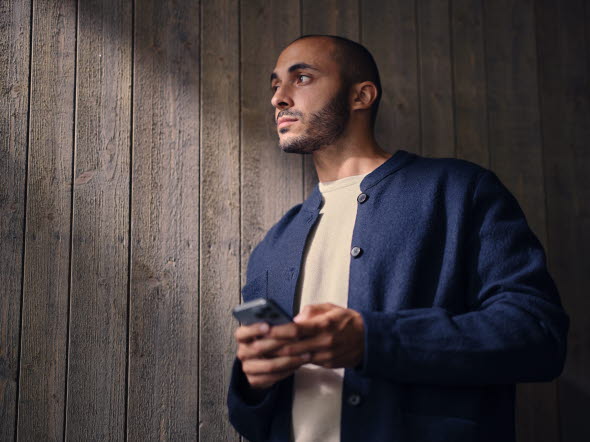 Join our talent network
Start your career as a trainee at SEB! Sign up to learn more about the application process and get news about the programme.
We are certified!
Our trainee program is certified by Traineeguiden, which means that we fulfil their conditions in the best way.
As a trainee with us, you go directly into a permanent employment with a market based salary in a full-time position.
Our trainee program runs for 9 months and includes the opportunity to work abroad.
"The trainee year kickstarted my career"
SEB's International Trainee Programme is a great way to kick-start your career and drive change in an exciting international environment. Learn more from Sara Fiehn who has made an impressive career within SEB since her traineeship and today works as a Senior Transaction Manager in Infrastructure & Project Finance.