Sustainable advisory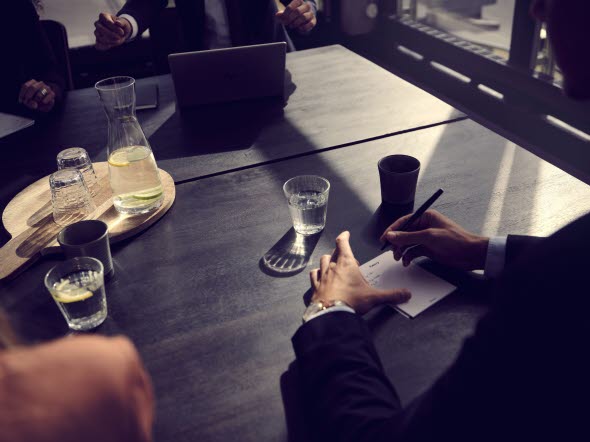 As a bank, we have a key role in financing the transition that has already started and which must accelerate in the future.
Through deep knowledge about our customers, their business environment, preferences and needs we want to help them identify sustainable business opportunities and manage potential risks. We are committed to support them with relevant and valuable advice, and appropriate sustainable products and services.
We aim for long term customer relationships, and believe we can make the greatest impact by assisting customers on their transition journeys. Based on a common conviction of the way forward, we and our chosen customers share values and long-term plans for the path towards a sustainable society. By having close dialogues on environmental, social and governance related areas we want to support them in their transition.
We have in recent years strengthened our advisory capacity related to the energy sector in order to support the transition and decrease the dependency on fossil fuels.
Customer Sustainability Classification Model
SEB has developed a model for assessing our corporate customers' current and future climate impacts, the Customer Sustainability Classification Model. This model is a hands-on tool for the bank's client executives and is used to engage with customers in constructive dialogues about their decarbonisation strategies.
The classification is performed in two steps:
In the first step, a sector breakdown is conducted where customers are sorted into four different categories based on the average carbon footprint of their respective sectors – material carbon footprint, slight carbon footprint, no/very limited or positive carbon footprint and sectors that are out of scope.
The second step of the classification focuses on the customers' transition strategies. To evaluate customers' current and future climate impact we collect information about each customer's current emission reduction compared to a baseline year as well as information about the customer's future emission reduction targets (if available). The customer's future emission reduction pathway can then be understood and compared to a sector-specific pathway, outlining the level of emissions reduction necessary for that sector as a whole to reach the objectives of the Paris Agreement. Based on this, the customer's climate impact is classified in five categories:
Sustainable companies with very limited greenhouse gas (GHG) emissions
Companies in transition with plans aligned with the Paris Agreement (1.5°C)
Companies in transition with plans aligned with the Paris Agreement (2°C)
Companies in transition but with plans that are not aligned with the Paris Agreement
Companies with no or limited transition plans.
The model allows us to deepen the relationships with our customers even further and support companies in transition with services and financing for potential investment needs. We aim for a joint understanding of a desired future and to agree on a path forward. In those cases where we don't come to an agreement we will over time disengage in an orderly way. Read about the Customer Sustainability Classification Model in the Annual and Sustainability Report 2020, p. 55.
Moreover, we aim to have constructive dialogues and provide responsible and proactive advice about the consequences of our customers' activities related to human rights, labour rights, social relations and anti-corruption. We expect our customers to respect human rights and labour rights through appropriate due diligence systems, and we are committed to identifying and managing corruption risks in transactions.
SEB believes that companies that take social and environmental responsibility will be more profitable in the long run. In Sweden, we have launched the training concept Sustainability Business Program (read in Swedish) in collaboration with the auditing and consulting firm Grant Thornton. During a six-month program, companies with a revenue from SEK 50 million are provided with knowledge, guidance and tools – helping them identify their most important sustainability issues and create measurable sustainability goals.
Thought leader in sustainability regulatory development
SEB has been involved in the regulatory development in the European Union since 2018. We were a member of the Technical Expert Group from the start and thereby contributed to the developing the Taxonomy. In 2020, the EU took the next step and established a new expert group, The Platform on Sustainable Finance, which works on developing a taxonomy also for areas such as protection of biodiversity, the transition to a circular economy, protection of water and marine resources, and pollution prevention.
The platform also assesses the need for a conceptual approach of a social taxonomy and a taxonomy for environmentally harmful activities. SEB is a member of this expert group, which includes some 50 members who represent industry and stakeholder organisations, authorities, academia, and large companies. Being part of this group gives us the opportunity to contribute to the development of new taxonomy areas, and gain important insights into the process, which will ultimately benefit our customers.