As an intern, you really get the opportunity to explore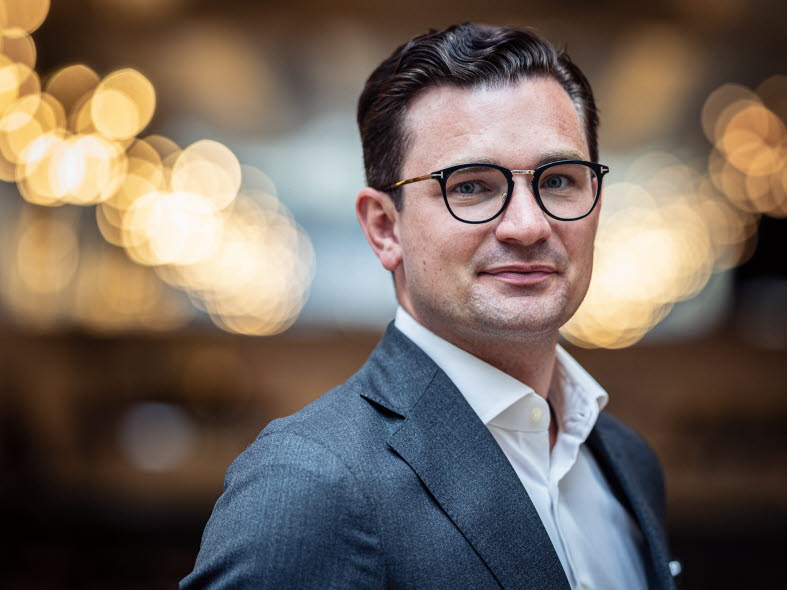 After completing a degree in finance and economics at Gothenburg's School of Economics, Johan Björkman decided to apply for SEB's Summer Internship in the Large Corporate and Financial Institution (LC&FI) division. He shares his experiences from the bank and gives tips to those who are interested in also doing an internship at SEB!
What made you apply for an internship at SEB?
– During my studies, many of my friends worked part-time at SEB. The bank had a good reputation amongst students and felt like a great entry point into the industry. So, for 1.5 years I worked as a mortgage advisor alongside my studies, which I really enjoyed. The training was very professional, the work environment was both secure and flexible, and it was clear that the bank genuinely cared about its employees. So, after finishing my studies, I wanted to continue at SEB, and my former manager encouraged me to apply for an internship. I applied for the LC&FI Summer Internship, got a spot, and ended up in Commodity Sales within Fixed Income, Currencies and Commodities (FICC) Markets.
What do you work with today?
– I'm still in FICC Markets, but now within FX Sales, so Foreign Exchange. My segment is Large Corporate, which includes the bank's most prominent corporate clients. Working with large companies, big volumes, and significant deals is a lot of fun! But one thing that is particularly exciting about SEB is that many of our customers are partially owned by the bank. This makes the area a high priority as it's seen as an important part of our core business, and we have a unique history and relationship with the clients. Of course, the area also involves significant risk, which is both challenging and fun. We are always encouraged to provide the best service possible and are expected to have high expertise. It requires a passion for the business, a problem-solving mindset, creativity and, of course, a liking for customer interaction.
What did you take away from the LC&FI Summer Internship?
– Within FICC Markets alone there are countless things to do, and as an intern, you really get the opportunity to explore, not only within your area but throughout the bank. Interns are encouraged to do internal rotations to learn more about what different areas actually do in more concrete terms. This makes it much easier to find what you genuinely enjoy. For me, it was incredibly important and valuable to meet others within the bank. That way, I was also able to build a network very early on, which I still benefit from today.
Do you have any tips for those wanting to do an internship at SEB?
– Regardless of what you're studying or what you want to do, I believe everyone should apply for an internship. Theory is always good to know, but how things actually work in practice is a whole different matter. If you want to learn how a workplace functions, and in this case, how a bank is structured, you do it best by being on-site. To gain perspective and understanding of the bigger picture, it's also crucial to be curious and not be confined to the specific position you're in. So my biggest tip is to network as much as possible. When I was an intern, I grabbed at least 20 coffees with different people within the bank to learn more about various areas and roles. I want to encourage all interns to do the same if you would like to spend a day with us to see what we do and how we work. You have that opportunity when you're an intern, so make sure to seize it. Be open to listening, dare to smile, and say what you find interesting.
For questions, feel free to send us an email.