I get to contribute to SEB's strategic agenda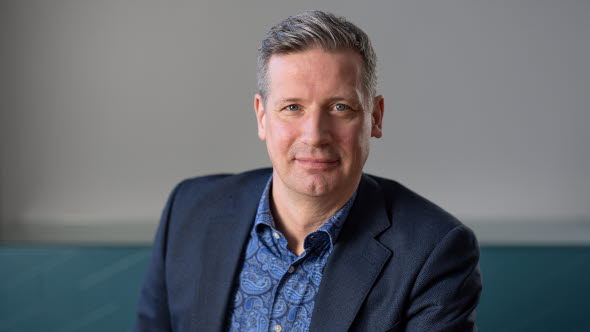 Positivity, an ability to get teams to work toward the same goals and an eagerness to constantly develop are just a few qualities that characterise a good project manager, according to Per Grundh, who works in SEB's central project manager function.
Per Grundh grew up in Bollnäs and pursued a degree in Computer Science at Dalarna University. In 1996, he moved to Stockholm where he initially worked as a developer and database administrator before becoming a project manager. He joined SEB in 2007 and is currently working within Group Chief Information Officer (CIO) - a central unit focused on future-proofing SEB from a business and technological perspective.
'We work towards enabling strategic changes and handle the majority of SEB's larger initiatives that span across different domains and require coordination. The role of a project manager is to ensure timely delivery of the right quality and cost. At the same time, you must motivate the people you work with. Therefore, both structural and relational competence is crucial'.
What's the best part of being a project manager?
'Working as a project manager is challenging, but also a lot of fun. Each day brings variety and you get to work close to people who possess deep knowledge within different areas. This allows for constant networking and continuous learning, all while delivering value for the bank and its customers. Being part of the journey from start to finish and building relationships along the way is incredibly rewarding. After all, the people are both the most important and the most enjoyable aspect of what we do. The best moments are when we successfully find complementary strengths within the team, creating a strong and positive dynamic, which naturally leads to better results'.
What projects do you manage today?
'Since the end of January, I have been leading a project aimed at replacing the bank's current billing system. By expanding the system support, we can eliminate the operational risk associated with the manual handling steps that have previously been required. The goal is to future-proof the system, which is being done as part of SEB's digitisation journey.'
'Some of my previous projects include the implementation of M365 and Teams within the bank. I was also involved in leading SEB's launch of Apple Pay - a project aimed at ensuring that the bank's service offerings align with customer demands'.
The launch of Apple Pay
The launch of Apple Pay was a complex project involving a large number of stakeholders and requiring strong interpersonal skills and communication abilities. As a result, Per was nominated by SEB as "Project Manager of the Year", an award that is annually presented by Svenska Projekt Akademien to individuals who have demonstrated exceptional project management achievements. Although he didn't make it to the very top this time, Per was one of three to advance to the final, where his experience, expertise and ability to lead projects in an agile manner within the banking environment were highlighted as key success factors.
Curious to learn more about the nomination? Check out an interview with Per ahead of the final.