SEB – an inspiring hub for tech women.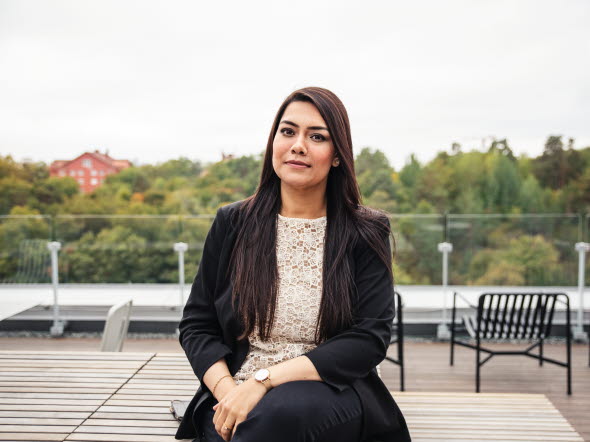 The opportunity to inspire and be creative at work every day – while also growing her career, makes working at SEB a pleasure for Zainab Imam Din.
Around the time when Zainab was looking to move on from her previous job at Scania, she
had her sights set on the finance sector. Her choice of SEB came down to, among other
factors, the major transformation that the bank is currently in the midst of.
"SEB is transforming itself into a service-oriented organisation," she says. "Being a part of
that shift I think is very exciting. And it is important for me to work for a large organisation
in which there are many opportunities for growth."

New leader role
Zainab first began as a Full Stack Software Developer at SEB, then as a Scrum Master,
before taking on her current role as Team Manager in Monitoring Solutions. For just over a year she has been responsible for two teams at SEB, one working with artificial intelligence and machine learning operations and the other providing more traditional monitoring tools to
SEB.
"This new role includes more responsibilities in managing both solutions and people. Rather
than doing tasks myself, I focus more on guiding and coaching others. Despite this, my role
still concerns technical issues, which keeps me very much connected to the tech". She adds,
"You can take a developer out of development tasks, but you can not completely take
development away from him or her."

Being responsible for your own career
One of the things that Zainab appreciates most about working at SEB is how the environment
inspires career growth. The encouragement from people around her, and an undeniable drive
to further her career, have been important factors in the several advancements that she has
achieved within the bank in just four years.
"I have always been clear about my long-term goals regarding my career and what I want to
achieve. I was offered my current role because they saw my potential - but I was always the
driving force. You have to take responsibility for your own career. That's why I believe that
an important part of advancing is having drive and ambition. The right support from my
manager, in combination with me driving my career, helped me explore internal mobility
opportunities."

Inspiring women in tech
However, being a female manager within tech is not always an easy route. When it comes to
more technical leadership roles, such as lead designers or architects, women are often not
represented to the same extent that men are. This is one of the reasons why Zainab
participates in different initiatives, such as Pink Programming, where she gets to be an
advocate and inspire others to pursue a career in tech.
"When we start presenting role models to women and girls to show them that tech is a safe
environment, we will get more people applying for and taking these roles. In these situations, I often refer to a quote that says 'I don't need to have a cape to be a superwoman' because it reminds both myself and others that being a woman is a superpower on its own."
An important part of inspiring others, both women and men, is also being able to talk about
failure aloud, Zainab explains. "I try to be open with my team members so that they feel
comfortable and safe to do the same. For example, I talk openly about the challenges that I
have had. That way I can help others to believe in themselves and think that if I can make it,
so can they."