"Continuous learning must be a natural part of the job"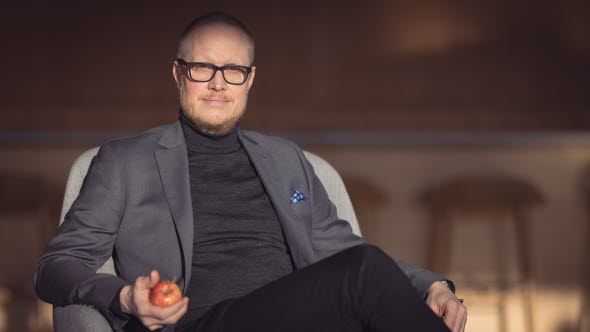 Niklas Granlund's job is about never being finished. With work aimed at promoting SEB's continuous learning culture, he and his colleagues are tasked instead with identifying the bank's entire skills requirements and offering relevant skills development to all 15,000-plus employees.
"This is constantly changing material, so by definition we are never finished," says Niklas Granlund.
For the past three years he has been responsible for the Partner Team within Learning & Development at SEB. The employees' role in the team is to drive learning, leadership and organisation development issues in the bank. There is a total of about 40 people in Learning & Development. In collaboration with all parts of the bank they work with identifying learning requirements and developing a relevant skills development offering at all levels. This makes for a highly varied job and is fundamental for the entire organisation in Niklas Granlund's opinion.
"As a bank, SEB has a responsibility to society. We have existed for 160 years, but to be relevant for our customers and remain around for the next 160 years, skills and learning are key."
Awareness of this has also meant that SEB makes dedicated efforts to use new ways to integrate learning into the bank's corporate culture. For several years learning has been part of SEB's overall business plan. Or as Niklas Granlund puts it: "this is not a side dish, but one of the main courses."
Wants learning to come from curiosity
He himself has a background of nearly 20 years as a management consultant. Starting work at SEB in 2018 was a fully conscious choice.
"Before that I worked as a consultant on a large project in what is today SEB's Technology division which involved establishing their business plan. I really liked working here so when an opportunity arose, I applied – and that's how it happened."
Changing attitudes to learning and integrating this as a natural part of more than 15,000 employees' working day is a stimulating challenge, notes Niklas Granlund. There is no "one size fits all". Rapid changes in digitalisation, new legal demands and increased focus on sustainability are some of the many skill areas that inspired learning offerings can make available to all.
"We do not want continuous learning to be perceived as a stick. It should come from curiosity and joy and be a natural part of the job. And we do not see it as something limited, we can learn from anything, from listening to a pod about the future of banks to coaching each other in a team," says Niklas Granlund.
Employees from other countries share learning
A major step was the launch in 2018 of the digital training platform SEB Campus. The platform is accessible to all employees in the organisation.
"Here you can search for knowledge, share your own, take advantage of skill development in various ways, and interact with other employees."
Niklas Granlund observes that the platform has quickly become an engine for different types of skill development across the bank. At year-end, 15,136 employees had accessed SEB Campus at some point, a figure that pleases Niklas Granlund.
To further boost continual learning a recurring process "School start" has been developed. This takes place at the end of August.
"We also have a "Spring term start" which takes place at the beginning of the calendar year."
With the help of employees from SEB's entire global organisation, we hold webinars and coach employees with the aim of both providing insight and spreading knowledge in the organisation across all SEB's markets.
"Learning is global and helps us to build bridges and reduce the occurrence of silos. It is cool to be able to share perspectives with colleagues from Singapore, New York and Vilnius," says Niklas Granlund.
How far do you think you have come in making continual learning an everyday part of the whole organisation?
"We have made a good start and have a good engine in SEB Campus even if we have not yet fully succeeded in anchoring this type of culture. We are now at a stage where we need to allocate more time to learning and see it as a natural part of the job. But it is fun and there are infinite possibilities in SEB Campus. We are dealing with people and what can be more inspiring than working with enabling other people to grow?"
This is Learning & Development
Learning & Development is a skills area within HR and consists of some 40 employees in Sweden and Lithuania. L&D comprises three teams – L&D Partners, L&D Specialists and L&D Delivery Specialists. One of their main tasks is to identify the entire organisation's learning needs and develop a skills development offering for the bank's 15,000-plus employees. The work is carried out in collaboration with other parts of the organisation such as the rest of HR and all divisions.
The skills requirements are initially identified through a process called Strategic Workforce Planning. The Learning & Development-teams select the most prioritised needs at different levels and develop and distribute opportunities for learning.