I am proud they saw my potential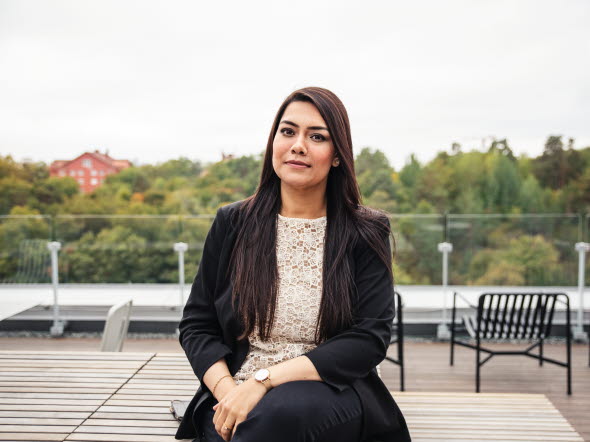 The opportunity to be creative at work every day – and at the same time maintain a good balance in life – makes working at SEB a pleasure for Zainab Imam Din.
Around the time when Imam Din was looking to move on from her previous job at Scania, she had her sights set on the finance sector. Her choice of SEB came down to, among other factors, the major transformation that the bank is currently in the midst of.
"From having conducted a product-based business, SEB is currently transforming itself into a service-oriented organisation," she says. "Being a part of that shift I think is very exciting. And then it is important for me to work for a large organisation in which there are many opportunities for growth."
New leader role
Imam Din has worked as a Full Stack Software Developer at SEB for nearly two years, and will soon take on expanded responsibility as a Scrum Master. During her days she writes and implements code – the entire time in close collaboration with other developers as well as UX designers and business analysts.
"The people on the business side come up with ideas that they present to us, which we then transform into a service that customers can use. As Scrum Master I will be responsible for making sure my team embraces an agile work approach at the same time that I coach them in the right direction."
Creative environment
Imam Din relates that what she appreciates most about her job is that she learns something new every day – and that she is encouraged to be creative.
"I feel that SEB values my knowledge and that my voice is heard," she says. "I can be transparent and open with my bosses, and vice versa. They see my potential and help me achieve my goals."
Sense of purpose important
According to Imam Din, working for a societally critical organisation where the job you perform has a direct impact on people adds an extra dimension to work.
"This became extra apparent this past spring, when we were highly focused on creating new services that our customers were asking for in the midst of the unfolding crisis. In part so that we could continue working from home, yet also have access to all of the services we needed," she recalls, adding:
"Working at SEB is about more than making money, which is important for my well-being." With an 11 year-old son and 8 year-old daughter, it means a lot for her that SEB enables a good work/life balance. "That the work is so flexible removes a lot of stress from my shoulders," she says.