"Exciting to lead specialists with drive and innovative spirit"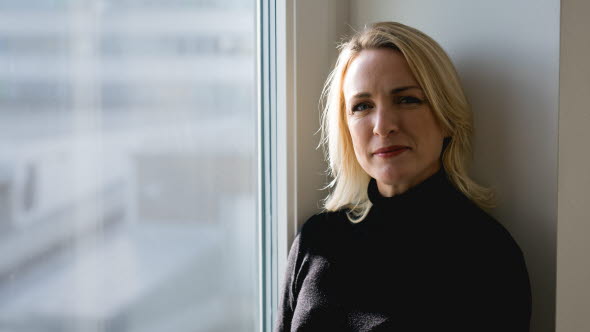 "Working with IT at a bank is exciting. We are responsible for keeping our existing production environment running at the same time as we build the bank of the future." So says Anneli Coehn who manages 120 employees responsible for hosting and integration services.
Anneli Coehn started on SEB's Tech Programme nine years ago and then aged 30 was one of the oldest participants. She saw the fact that she had work experience as an advantage since it allowed her more easily to absorb and take advantage of the skills she obtained through the programme and quickly contribute to operations.
The route to the Tech Programme and SEB was not straight as a die. After upper secondary school and an MA in literature, Anneli combined work and pleasure and changed horses to become a riding instructor.
"In equestrian sports I became interested in leadership and in the positions I had I was also involved in business development using IT. These two factors were pivotal when at age 27 I started to study IT and management at the University of Karlstad."
What was it that made you apply for SEB's trainee programme after your studies?
"It was on purely private economic grounds. On the other hand, like so many others, I was unaware of how big IT operations are in a bank. I found out when I started the programme. In the banking sector, IT is not a support function, it is part of the core business."
What do you do in your role?
"I manage a department of 120 employees. We are responsible for servers, databases, integration services and enabling the use of private and public cloud services. My managerial role is about putting together teams with the right skills and commitment. We work very close to production and when there is a crash and something goes wrong, we must be able to rely on having the right people in place with the right skills and ability to solve the problem. There is an enthusiastic collaboration between our teams."
How would you describe your management philosophy?
"It is about setting a clear overall direction but also a lot about listening, being responsive and inquisitive. This often results in others daring to come forward and look at their own skills and drive."
How is gender distribution in your department?
"Today one-fifth of the staff in my department are female, but when I started it was considerably fewer.
"Most people who train for our area of competence are men, which is reflected in the recruitment process, but I can see that we are moving towards more diversification in specialist roles which favours diversity generally in the workplace. This is something we seek not just between male and female but at all levels since it creates a more interesting and dynamic workplace if more perspectives are taken into account. I think there is an open culture and that everybody has the same possibilities to develop in their professional role based on commitment and ambition."
How do you perceive SEB's culture?
"There is an enormous drive and innovative spirit. I think that to a great extent we enable specialists in the business to actively participate in decision making. I set the strategic moulds but then it is up to our specialists to fill them with what is relevant for us to make an effective contribution to SEB's business.
"SEB is an employer with a mass of different professional roles and contexts within which to develop. If you have strong personal drive and ambition, there are many opportunities. I think that, in a positive sense, we have a performance-based workplace where the term career is broad and can mean developing both in management and as a specialist and where results are more important than prestige."