The economists' introduction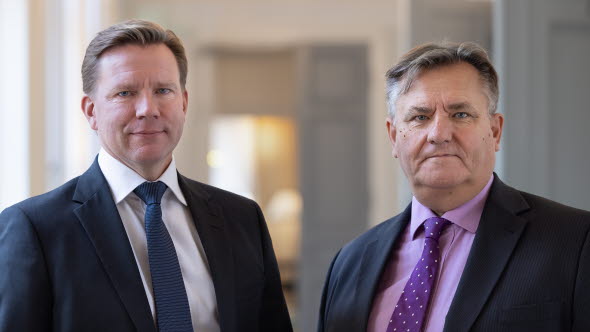 War and inflation will hamper economic growth
The COVID-19 pandemic had not yet released its grip on the world economy before Russia attacked Ukraine, creating a new crisis. Above all, the war is a humanitarian catastrophe. But in economic terms, we are now facing a whole new level of uncertainty and challenges. The invasion has intensified the problems with global value chains, trade, production, input goods, transport and energy shortages that arose during the pandemic. The sanctions against Russia with which the European Union, United Kingdom, United States and others have responded will also have major economic consequences that extend far beyond Russia's borders.
On top of this, inflation is now so high and widespread that virtually all central banks have either begun to tighten their monetary policy or plan to do this soon. Inflation − which began with price increases for specific goods and intensified last autumn due to rising transport and energy prices − is now visible everywhere. Central banks have consequently abandoned their previous view that inflation was a transitory effect of pandemic-related supply side disruptions. We will therefore see active measures, in the form of both long series of key interest rate hikes as well as programmes to reduce central bank balance sheets. The idea is to lift both short- and long-term rates in order to reduce demand in the economy, lower inflation expectations, restore confidence in central bank inflation targets and prevent an upward wage-price spiral that risks damaging the economy for a long time to come.
In such an environment, growth will be negatively affected. Tightening measures will cause economic activity to slow. It will be harder for businesses to maintain their margins. Higher interest rates and bond yields will make capital spending dearer. Household finances will be squeezed between negative real wage increases, higher home mortgage rates and continued historically elevated prices for electricity and petrol.
These are among the reasons why this Nordic Outlook includes clear downward revisions in our growth forecasts for almost all countries, compared with the issue we published in January.
The big question is not whether growth will decelerate, but by how much. Will central banks and governments manage to slow down the economy just enough, or are we headed for a deep recession? It will be a tricky and uncertain balancing act, but our main scenario is that a soft landing is likely in spite of everything. Labour markets and demand are strong in most large economies, and households still have savings and strong balance sheets. Many companies are doing well, and governments are prepared to support vulnerable parts of the economy with fiscal stimulus measures. But soft-landing an economy is not easy. History provides many examples of central banks that went too far or too fast, with hard landings as a result. We look forward to continuing to analyse and discuss this extremely difficult but also intriguing financial situation with you.
In this May 2022 issue of Nordic Outlook, we offer four in-depth theme articles that discuss the following:
Commodity shocks

Russia's new role

The new wage round

The changing Baltics
We wish you pleasant reading and a great summer!
Jens Magnusson
Chief Economist
Håkan Frisén
Head of Economic Forecasting