Meeting round a computer printout was the start of the company's climate journey
Einar Bodström was involved in starting several companies, but always had a "climate monkey" looking over his shoulder and wondered when he would get to grips with something that really mattered. The answer came when he met mathematician Tomer Shalit who spread out a five-metre-long roll of paper with a plan for Sweden's climate transition. That was the start of a journey for the company ClimateView, whose system for climate transition is now used by some 80 cities worldwide.
"Cities account for 70% of climate emissions and face similar challenges. We have built a platform that helps them plan and execute their climate transition," he says.
Einar Bodström has a background as a filmmaker. He studied at the Stockholm School of Economics but dropped out to start the media company House of Radon, which is still active. He was also involved in starting the fully transparent clothing company Asket.
"But throughout the entire journey I felt that I wanted to get involved in climate transition. I was looking for my role in this and searched for a long time until I met Tomer. That meeting was the result of a professional blind date. Our friends knew that we were both preoccupied with the climate issue and suggested that we should meet. We did that and the chemistry clicked," he says.
Transformation methodology
As a consultant, Tomer Shalit had developed a transformation methodology for transitioning the Swedish transport system. Instead of continuing as a consultant to help insurance companies improve their margins, he decided to put all his efforts into climate transition. He imagined that Sweden was a customer and mapped out the entire climate transition as a hierarchy that provided both an overview and detailed management.
It was that plan, printed on a five-metre-long roll of paper, that was the basis of the company ClimateView.
"Since then we have spent four years refining the data model and creating a scalable system platform – ClimateOS," says Einar Bodström.
First assignment
The first assignment was a pilot project for the newly started Swedish Climate Policy Council. This resulted in the Panorama tool which visualises Sweden's climate transition. It shows what is required for Sweden to reach the goal of net zero emissions by 2045. Panorama is updated every fourteenth day and provides the basis for the Climate Policy Council's assessment of the government's policy.
"We did this on assignment from and together with organisations and authorities such as Vattenfall, the Swedish Environmental Protection Agency and the Swedish Energy Agency. This is evidence of the confidence there is in the Swedish system that we could knock on the doors of a group of authorities and be let in. We developed the model together with our clients."
Instead of everyone re-inventing the wheel and spending countless hours on consultants to define the initial status, we can offer a relatively pre-baked cake.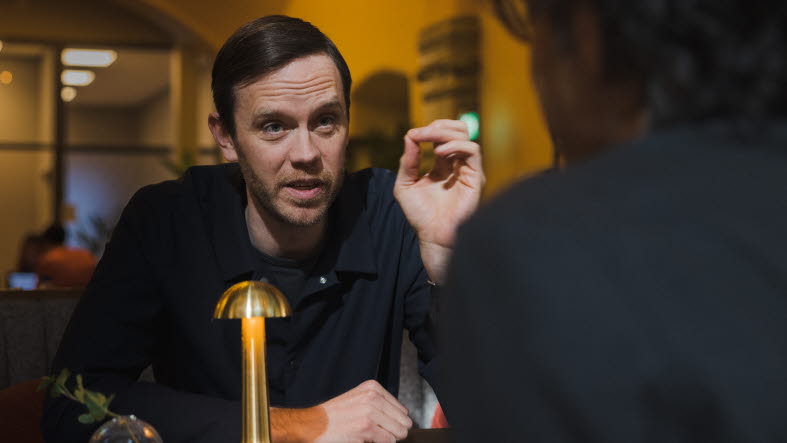 What was the next step in building the company?
"Our starting point has always been to create something that will benefit the entire world. Therefore we focused on building a rigid and scalable model that can be widely used."
Was there any specific occasion when you felt that this idea would take off?
"For me it was when the Climate Policy Council announced that Panorama was in production, the same day as we were on stage presenting the idea at the Brilliant Minds conference with Barack Obama in the audience. That same day we also gave a presentation to South Korea's presidential delegation. This was very early in our journey, but a confirmation that we had something that met a very great need."
Where is ClimateView today?
"We have a platform that we offer cities to plan and carry out their climate transition. Instead of everyone re-inventing the wheel and spending countless hours on consultants to define the initial status, we can offer a relatively pre-baked cake. We provide a starting point on the basis of qualitatively available data and then we identify areas that need to be fine-tuned and make recommendations about areas that are less important to put effort into."
Only this way can cities save 90% of the work of defining the current situation, thinks Einar Bodström. Furthermore they get a dynamic model, an operational execution plan that can continually be adjusted based on new assumptions and actions, compared to the normal static PDF plan which is often out of date before it is printed.
"But a plan is only a plan if it is not carried out. To do that it must be financed and filled with actions. The plan shows what is needed to reach the goal, that is just mathematics. The rest is about human behaviour, psychology, political decisions, electoral cycles and technical innovation that we do not yet know about."
The first clients, that is the cities that first started using ClimateView's IT system were Uppsala and Umeå in Sweden as well as Newcastle and Cambridge in the UK. Today the system is used by some 80 cities in Sweden, Spain, the UK, Germany, Switzerland and Canada. The target for 2022 is have 250 cities as users.
ClimateView has gone from nine employees before the pandemic to about 55 today, so teleworking is part of the company's DNA. Most are in Stockholm, but the company also has employees in Umeå, Barcelona and Indianapolis, among other places.
SEB Greentech, the bank's unit for investing risk capital in green technology has invested in ClimateView.
What does that mean?
"Since we work actively with how we can simplify financing the transition, closeness to SEB's know-how and experience is very valuable. SEB is well-regarded within green financing and can access valuable knowledge capital."
---
Article published on May 4, 2022

Text: Niklas Munter
Photo: Joel Sherwood
---
This is SEB Greentech
SEB Greentech is a unit within SEB that invests in green technology, focusing on transformative ideas that promise substantial impact in reducing greenhouse gas emissions or in preventing transgression of the planetary boundaries. They can invest in hardware, software and technology platform solutions, in sectors ranging from renewable energy, energy storage, water and agricultural technology, circular business models, to waste management.

Read more about SEB Greentech →