We work with the latest technology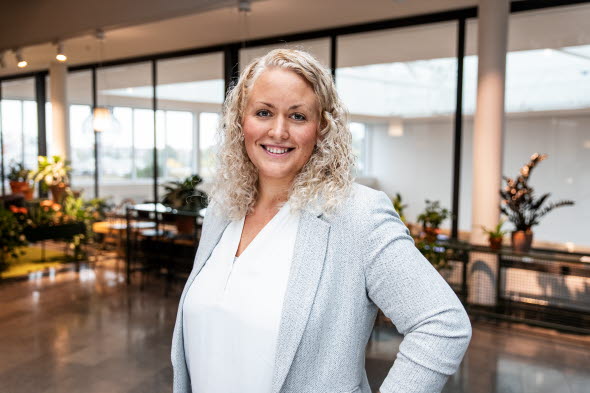 In SEB's innovation studio SEBx, employees can be part of the journey from idea to finished product – and at the same time take a deep-dive into cutting-edge technology.
SEBx was established two years ago with the purpose of further accelerating the pace of transformation within the SEB banking group. Focus is on exploring new technologies, alternative technical platforms, and future customer offerings.
"The idea from the very start was that SEBx would be detached from existing structures and processes in SEB," explains Emelie Magnusson, who in her role as COO & Deputy Head of SEBx is responsible for business development and operation of the platform. "We make our own decisions and look at the market like a typical start-up would. For example, our BaaS (Banking as a Service) platform should be used not only by our own segments and commercial concepts, but should also be made available by SEB for sale onwards to third parties."
Continues to grow
Initially SEBx comprised a team of seven people, but today the unit has more than 50 employees and is entirely autonomous with respect to competence. Emelie notes that this year the unit has recruited 18 people and that it will continue growing in 2021.
"We have everything from UX designers and data scientists to developers and customer service reps," she says. "One of the advantages of being part of SEB is that we can insource specialist expertise and support when needed at the same time that we continuously loop our experiences back and share our insights with the rest of the SEB group."
Many paths to take
SEB's high ranking among young professionals, in Magnusson's view – who joined the bank herself as a student – can be credited to the fact that it is a large company that offers a multitude of opportunities for development.
"One of the reasons why I have worked here for nearly ten years is that there are so many paths to take within the bank. I started out in the telephone bank and then worked with various forms of change management until I got the offer to be part of starting up SEBx. You can really pursue an exciting career at SEB."
Attracted to technology
When Emelie asks young candidates why they have applied to SEBx, many say that they want to work with cutting-edge technology.
"We work with new technology, such as AI and machine learning, not only on a theoretical level, but also on a practical level. The new technologies that we embrace should enhance the product we create for our customers. This means that you have an opportunity to work with end-to-end product development, and I know this is what attracts many of those who apply to work with us."