When lots is happening around me, then I find peace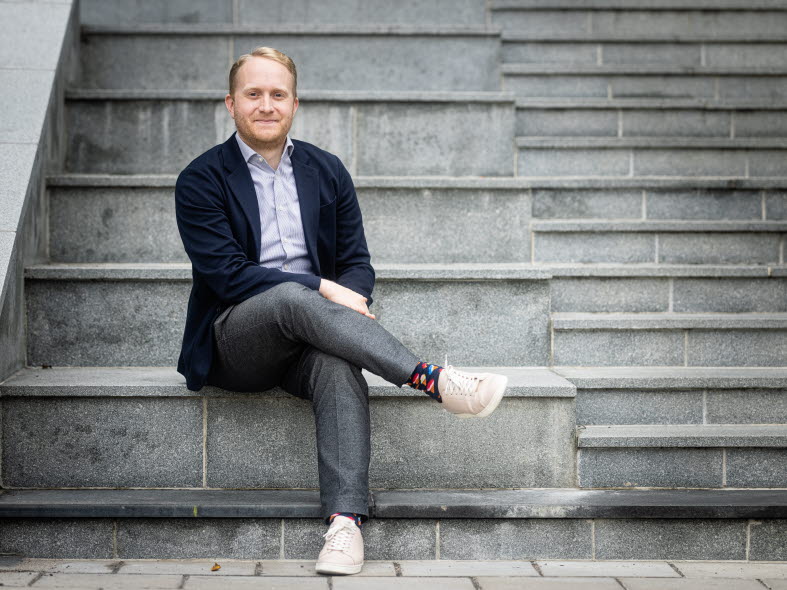 A fast pace, problem-solving and making a difference for people are three things that our customer service manager Axel Andrup is passionate about.
After a time in Paris, a degree in Business and Economics at Luleå University and a job at another bank, Axel was recommended to join SEB. In May 2020, Axel started as a private advisor right at the height of the pandemic. In September this year, he landed a role as customer service manager.
"The role of customer service manager means that I work with all employees out in customer service where right now we are undergoing a major change. Instead of a drop-in for customers, we are implementing booked meetings."
Axel finds being part of such a major change both exciting and challenging.
"There's a lot to be done, schedules and calendars must be revised and we are handling people in a change process. I help my colleagues to find their way through this change so that it will ultimately be right for our customers."
His drive in the role of customer service manager can be linked to his interest in ice hockey, as a linesman.
"As both customer service manager and linesman, I feel at home when things move fast. I do not prefer to sit and twiddle my thumbs. When lots are happening around me, then I find peace. Customer service manager suits me perfectly since things are always happening, just as on a hockey rink."
During the pandemic, the greatest challenge was not being able to meet customers in the same way. Now it is about managing change and all the logistics that involves, including making sure customers understand the information. Axel also says that no one day as a customer service manager is like another and even if the day has a schedule, this can change drastically.
Despite all the many challenges, the role of customer service manager fits Axel like a glove.
"I enjoy it when things move fast and like being with other people. I want to make a difference and to know that everyone leaves a meeting with me feeling they have been helped."
How does the future look?
"I believe that more employees will act as advisors, even if you are not in principle a private or business advisor. More cutting-edge expertise will be needed and more will be expected of us but in a different way. As for customers, they will continue to need advice and simplification in digitalisation."
What do you see as important in a role that involves meeting customers?
"Commitment! If you show commitment, it spreads to customers, colleagues and managers. It also shows that you find your work enjoyable. To be well-informed, both about products as well as good monitoring of the business environment are important for meeting customer needs."
About Axel Andrup:
Title: Customer service manager
Education: Business and Economics at Luleå University of Technology.
Fun fact: For 7 years now, Axel has been a linesman for the ice hockey third division.