The most rewarding aspect is following the companies on their journey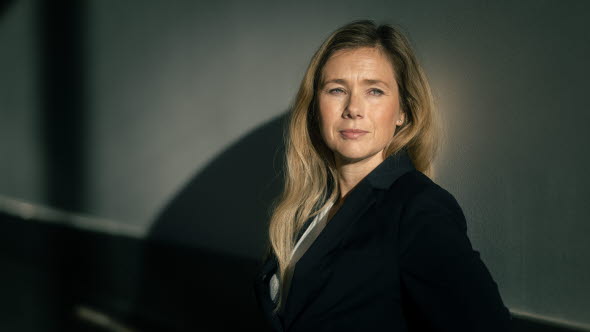 "We play a key role in helping a company to grow, to finance investments, support them to reach out to new markets and achieve more effective business models. That's what is the most rewarding aspect of this job," so says Christina Larsén, who is a business advisor at SEB's Brommaplan branch.
Christina Larsén has worked at Brommaplan for four years and prior to that spent two years at the branch on Fridhemsplan. She is an account manager for large corporates. This involves overall responsibility for financing, savings, insurance and payment solutions. The customer base comprises some 50 companies and corporate groups.
What does your working day look like?
"It's extremely varied. It includes bi-annual follow-up meetings for the slightly bigger customers where we go through the company's financial situation and requirements. But, in between, there can be some highly intensive periods. For example, when it involves financing a construction project, final financing of tenant-owner associations or conversion from rental properties to tenant-owner properties. Company acquisition can also be intensive periods where we need to bring in legal expertise or insurance advisors. We can also have meetings with the company's entire workforce in order to go through questions relating to their personal finances."
Does your work also include bringing in new customers?
"Yes, the aim is to grow and take in new customers. We work outwards towards the local community, meet local sports associations, start-up centres and other corporate networks in our local area in order to find potential customers."
What are the most challenging and the most rewarding aspects of the job?
"The most challenging thing is explaining to customers that we cannot grant loans even if we believe in their business idea. Of course, we want to help most of them but perhaps the company is at too early a phase to motivate bank financing. We have a well-developed credit policy that is second nature to all of us. It is shaped by our past experiences of what might happen. I think this provides credibility. We are able to explain why we cannot go into a project or finance a new business. Certainly, we are a little cautious but this also increases credibility because we are a partner people can rely on.
"Then I have learnt that it is the person or people behind the company you must get to know. This is about confidence in their ability to operate and manage risks. You might think that the business idea is good and that the customers are out there, but there is still something that doesn't add up. Then it is often management or the finance function that does not work.
"The most rewarding aspect is following the companies on their journey. Perhaps we have been involved in starting a basic account for a limited company and lent money somewhere along the way to finance investments. Then the company suddenly has a turnover of SEK 50 or 100 million. We got to know the company on this journey and function as advisors, not just as administrators of their loans and accounts."
How do you see the future? Do you think your role will change?
"Yes, it will definitely change. The simple and everyday things such as setting up an overdraft. managing leasing cars or simpler account inquiries will be automated. In order to be relevant in the future, high demands will be placed on our competence. We will need to become even more of advisors for customers, to understand their business models and work with our network of specialists to adapt our advisory services to the specific company."
Do you have any good examples of business deals and customer meetings that you can tell us about?
"Yes, one example is a company in the clothing industry that was started by a young girl. I have followed the company for its entire journey from when we initially had to work a lot with temporary loans to get the liquidity under control. It was on a knife-edge at times. But the company's founder did everything right and the company has developed really well. Today, it has an annual turnover of almost SEK 80 million and good profitability. This is a fine success story in a difficult sector.
"But I have also experienced the opposite. There was one company that approached the bank a few years ago. The company had a really good customer base and fantastic opportunities but our communication with the company went wrong. It became unclear who really made the decisions in the company – was it the CFO, the owner or the chairman. It ended with our paths parting and the company changed bank. From being a highly successful company with every opportunity to succeed, it later went completely to pieces. There you can really see the importance of competent management. The wrong management can have catastrophic consequences despite the company being well placed in the market."