A leading example for others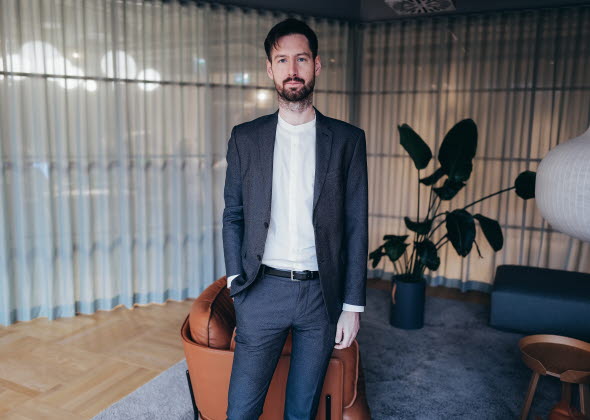 Piotr transitioned from Financial Strategy to Corporate Finance two months ago. "I come from an entrepreneurial family and wanted to know more about investments and how to assess them, and after hearing that my manager agreed it was the right move for me to make."
Piotr joined the Global Business Center in Poland as the second ever person to join and has worked on many great projects, like the Sustainability Support Schemes Project. As a team, they prepared a summary of initiatives available in countries across almost all the SEB sites aimed at boosting sustainable business sectors; mostly renewable energy.
What do relationships look like at SEB?
"One of the first things I noticed at the bank was how many employees were working for the bank and how long they had been there. They were making meaningful relationships and they were happy to stay for a long while. I also have this feeling that I can always talk to my manager and seniors; the doors are always open. I feel like this is the right way to build relationships that are good for the business."
"The welcoming culture is visible at all the sites. I have seen the US, Swedish and German sites and there is a friendly attitude from everyone, which actually enabled me to stay longer. I was even invited to meet the General Manager in the US, which was not job-related, but just a human touch. Relationships are not based solely on business or tasks, there is a personal and individual approach."
What has been the biggest driver of your personal development at SEB?
"I think it's been the relationships at SEB. There are people here who enable you, see you're willing to put in extra work that you are passionate about, and come past with exciting cases that they know you will be interested in. I'm personally interested in the renewable and energy sectors, especially in the US, and I was able to work on a couple of projects which involved that, which really satisfied my curiosity. The bank also puts a lot of focus on sustainability in general. I didn't see this focus at previous employers, so at SEB I was able to rediscover my interests."
How do challenges create opportunities at SEB?
"It's always a challenge to discover something new and learn about a whole new aspect in a short period of time. I knew I was interested in sustainability before, but I was more focused on the European market. I then had to look into a different region, like the US, and that was a challenge, but it allowed me to grow. It was a lot of reading on the legal side of things and thanks to that, I learnt a lot and boosted my confidence to tackle tasks outside of my expertise."
What role does SEB have in positively impacting society?
"Our office in Poland invited our colleagues from Kiev over here, which I think sets a great example for other financial institutions in Poland and also boosts morale that we aren't leaving anyone behind, we are building meaningful relationships. We're also doing a lot for society on the side of renewables, but the human aspect of sustainability is important."
What is something you feel is on the horizon that will be impactful in the world of finance or sustainability?
"We're living in very interesting times. I think it's easy to see that there are so many things that will impact the world as we know it. An aging population will put a strain on already heavily indebted national budgets, decreasing biodiversity and resource scarcity may form a vicious cycle in conjunction with growing income inequality. The past few years have made governments more likely to use sanctions on one another, but the economy is slowly reopening, so that's a silver lining I can see."
How do you practice sustainability in your everyday life?
"I'm always making an effort to do something for myself at least once a week (like a hike in the woods or some spa time) to practice mental sustainability. I am trying to make informed decisions about the products and services I use and pick organic and local food produce if possible. And when I lived in Munich, I used to order all my beverages in glass containers so they can be recycled and limit waste. Nowadays I use water filters for the same reason."