Find out what doors there are to knock on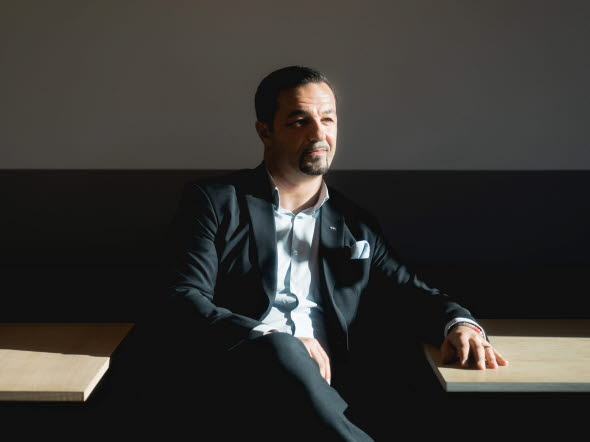 Had Nabil Gharib not chosen a career in finance, he likely would have become a chef. "I love cooking, but at the same time I have always had an interest in economics and dreamed of working in finance. I've now been with SEB for 20 years," he says.
Nabil arrived in Sweden with his family from Syria as a three-year old and grew up in the Stockholm suburb of Sollentuna. But after a year in high school he looked to the USA for his continued studies.
"My mom felt that my focus at the time was on other things than studying, and she wanted me to travel abroad for a half-year and focus on school," he recalls. "That ended up with two years in high school followed by four and half years at college, where I received a bachelor's in business administration and also studied communication.
"I then thought I'd stay and work in the USA, but it was hard getting a work visa, so after doing an internship with an investment firm in Minneapolis I moved home to Sweden."
While Nabil searched for a job in the finance sector, he worked as a bartender at a bar in Stockholm.
"I am a social person and enjoy meeting people. My time as a bartender gave me a foundation of important and basic experience in the service industry that I still carry with me today: to always have the customer in focus and make sure you provide service with a smile, no matter what is happening in your life outside of work.
"Tending bar also taught me to have split-vision, so that you can always read the situation around you and prepare for the next situation or customer – it's a lesson that I actually still draw upon in my leadership role at the bank."
After 20 years at SEB Nabil has found himself in many different management roles in a number of the bank's business areas. This included two years in Luxembourg as head of Custody Services.
"Working abroad is something I highly recommend," he says. "I gained new experience from working in an international environment along with a network that I still benefit from. Luxembourg was a very fun and valuable experience for me. At the same time, it was also a major challenge to lead a relatively small team on which the members spoke four different languages and came from eleven different cultural backgrounds. Forming a team with these conditions gave me a whole new set of skills."
He says that the advantage of working in a large organisation like SEB is that there are so many opportunities to further your personal development.
"But you have to understand that it is you yourself who is responsible for you learning new things and advancing. Sure, you can have a dialogue with your manager or people in your network to find out what the next step could be, but it is up to you to find out what doors there are to knock on, and then start knocking.
"And then it's important that you show what you want and also make sure you take advantage of opportunities to learn new things and keep yourself relevant. Right now, for example, I am trying to learn as much as possible about digitalisation, since it is an important area that we know will be even more pertinent in the future. I am also trying to learn as much as possible about the myriad regulations that are relevant in my current area of responsibility."
A few months ago Nabil became head of Depositary Services in the Large Corporates & Financial Institutions division.
"In my job I am responsible for ensuring that we as a bank and institution receive and hold the assets owned by mutual funds, and ensure that issuances and redemptions are conducted in compliance with applicable rules and regulations. One of the things that makes my job so exciting is that I have the benefit of working with such incredibly competent people in this area, and I am learning new things every day.
"But even though I ended up choosing the financial sector, I still love cooking. I've even considered the opportunity of one day participating in Master Chef Sweden. Even though I haven't quite dared take the step, it is something I would like to do."
About Nabil Gharib
Title: Head of Depositary Services
Education: Bachelor's in Business Administration and studies in communication, St. John's University, Minnesota
Interests: My family (fiancée Anna and children Annie and Hugo), playing soccer with a gang of guys in Nacka on the weekends, watching movies (preferably comedies), and of course, cooking food