Fast pace, welcoming culture, and a variety of tasks makes for a great internship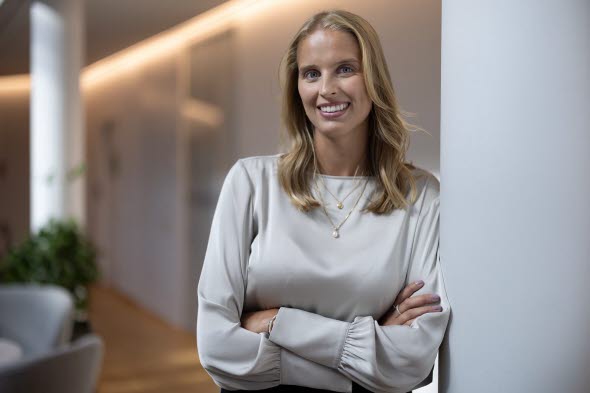 Former Investment Banking intern, Elsa Ridner, who now works as an analyst in Corporate Finance, reflects on her experiences and why she pursued an internship with SEB.
While finishing her MSc in Accounting, Valuation, and Financial Management at Stockholm School of Economics in 2021, Elsa took on an Investment Banking internship here, during which she was primarily involved in an IPO process. She did everything from designing presentations that were used during the IPO process to drafting parts of the prospectus. She also worked on smaller tasks in other projects like pitches or company presentations.
When Elsa was evaluating internships, she was attracted to SEB as one of the leading banks in Sweden and with some of the most interesting assignments within Investment Banking.
What did you enjoy with the internship?
"I really liked being in a team, and I felt very welcomed by both SEB as an organisation and the team itself. What I liked most was that I could use my theoretical knowledge from university and apply it in reality. I think working with real projects and issues, as we did during the internship, makes you develop faster and gain relevant knowledge."
Why did you choose SEB for your internship, and why did you decide to stay for a full-time career?
"I had many classmates who had done internships here before and spoke well about the bank and the programme, which made SEB stand out amongst other banks. The culture is also very warm and welcoming. I always felt included in the team, and there was open communication, so I never felt afraid to ask questions and therefore learn more.
My tasks also gave me an understanding of what analysts at SEB do, and it became clear to me that you can be involved in so many different projects, which really sparked my interest in the area. The development curve is fast, and I valued the variation of doing a wide range of things. I enjoyed my work, my team and the culture, so SEB felt like the right choice for a full-time career."
Any tips for someone interested in applying for the internship?
"Try to get in touch with previous interns or people who work at the bank for a better understanding of the internship itself and what to expect, but also for confirmation that it suits you, your goals and your ambitions. SEB also participates in many university fairs where you can ask questions and hopefully make an impression on someone that might recruit you in the future.
If you have an interest in the area, you should apply. It has been so rewarding. I highly recommend it!"