Virtual step for art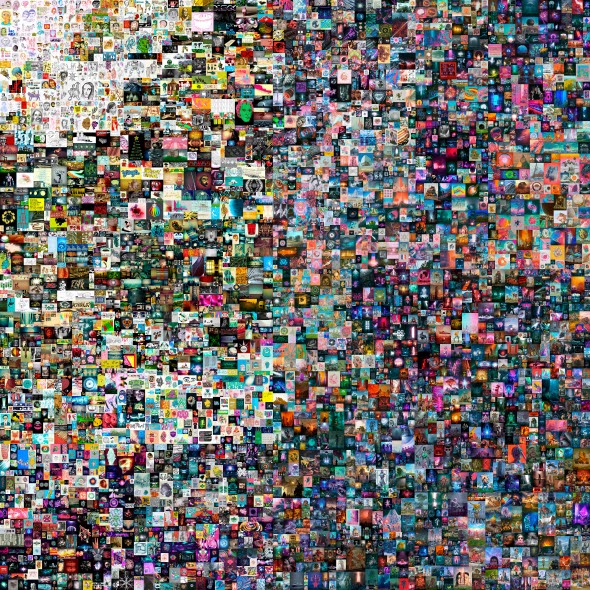 Crypto Technology makes it possible to invest in and own digital art. Thanks to a digital signature, virtual works of art can be sold as unique originals. And so, the art market moves into the world of digital art.
There were significantly more than just art lovers who raised their eyebrows last spring when the traditional auction house Christie's sold the digital artwork Everydays - the First 5,000 Days by the American artist Mike "Beeple" Winkelmann for the somewhat unimaginable sum of USD 69.3 million. Never before had a digital work been sold for a similar amount.
The artwork is a collage consisting of 5,000 digital pictures and was bought by Vignesh Sundaresan, a programmer and investor in cryptocurrencies who lives in Singapore. The buyer now has the right to exhibit the work, which he did at a digital museum.
Digital art has been around for decades, but it is only now that, thanks to a special type of crypto technology, one can assure that a work is an original and not a copy.
The current crypto technology is called non-fungible token: NFT. Each token corresponds to a unique part of a blockchain that creates a digital fingerprint. The technology is similar to that behind cryptocurrencies, but unlike in cryptocurrencies, an NFT cannot be replaced. This makes it possible to see which work of art is original, its provenance and what it was sold for. Simply put, you can see an NFT as certificate of ownership of a unique digital product – for example, a work of art, a trading card or a piece of music.
Trading in NFTs is usually done in cryptocurrencies, but also in dollars, and there are a wide range of different market­places where artists, musicians and companies can sell their tokens to avid collectors.
Although it has been possible to trade in NFTs since 2017, it was in 2020 that the market exploded. During the third quarter of 2020, NFTs were sold for USD 10.7 billion according to market tracker company DappRadar. That was eight times more than the sales volume during the first quarter of the same year. In addition to the sharp increase in the number of transactions, there are also reports of how digital tokens have been able to increase in value from a few thousand dollars to several million in just a few months.
Right now, prices are driven more by the fact that there is hype about this new crypto economy than by the originality of the works of art, says Michael Storåkers, founder of the gallery CF Hill, who specialises in curated exhibitions and brokering and advising on works of art.
Michael Storåkers describes the phenomenon as a new channel for the expression of art, in the same way that photography and video have been introduced to art before, but so far he is lukewarm about the artistic value in the huge market that has quickly flared up.
Kirsten Hinder is a co-founder of the Swedish art tech company Nfinitymark and is much more positive about the artistic value created in the form of NFTs. With 20 years of experience at both museums and galleries, in the spring of 2021 she was taken by the cryptocurrency expert Champike Munasinghe's idea of linking blockchain technology with physical art. Together they founded Nfinitymark, where an important part of the business consists of tagging works of art and other valuable objects with a unique chemical substance that gives the work a serial number in a blockchain, which guarantees its authenticity and at the same time accounts for ownership history.
"It's nice to have a handshake and a letter of authenticity when you invest in valuable art, but this way your artwork becomes even more protected and more prepared for a digitalised future," says Kirsten Hinder.
She emphasises that Nfinitymark does not focus on the current speculative market, but instead looks forward to the long-term benefits that NFT and blockchain technology can bring.
"In 2021, to say the least, it was turbulent as far as the market for NFT is concerned, but our focus is more long-term. When the dust has settled, we are ready to offer smart solutions within the framework of the new technology. But we are not at all interested in the current bubble," she says.
While she is positive about the artistic value created within the framework of the new technology, she also sees the difficulties for the buyer in finding more interesting objects in the jungle of today's NFT platforms. The range consists of everything from collectibles to advanced art, and creators are everyone from programmers and students who hope to earn some extra money, to experienced artists. As a buyer, you also need to possess at least some technical knowledge to be able to complete a deal. But regardless of today's variation in terms of supply, Kirsten Hinder is convinced that NFTs are here to stay in the art world in several ways.
"What we see is a natural, digital development, which will change the art market we know today. In addition to seeing more digital platforms, where experts help buyers and sellers find each other in the digital art world, physical objects will also get a digital aspect," she says.
In the Swedish art market, so far it is quite unusual to link physical art with NFT technology, and Nfinitymark is a pioneer in its field. But internationally, the development has come further in some places. Several new art funds with different NFT connections have seen the light of day in a short time. The digital investment platform Artcel's fund "Millenials" offers the buyer a hybrid investment in art – the works on which the fund is based are physical, but your ownership is registered in a blockchain. And in March 2021, Chinese tech entrepreneur Justin Sun launched the "Just NFT Fund," with the stated goal of bridging the gap between blockchain technology and the world's top artists, as well as supporting the growth of NFT artists.
Kirsten Hinder believes that new ways of investing in art will above all attract a younger generation into the art world. This was clearly the case in the auction of Beeple's work at Christie's, where only three of the 33 bidders were known by the auction house prior to auction and a majority were from generation Y or Z. And 31-year-old Justin Sun admitted in a Tweet that he was one of the losing bidders.
"We are seeing a generational change in art collection, there are more and more younger buyers in their 30s. Digital technology is a language they understand and appreciate. For an older generation not born into the technology, it can be more difficult to absorb, even though we see that there is an interest and we work to help our customers get over the threshold," says Kirsten Hinder.
Regardless of the age of the buyer, she thinks it should be possible to see collecting in digital art as a way to diversify an art collection.
"Don't put all your eggs in one basket, but we are acquiring more and more digital assets and it is very interesting to see how more people find their way into the art world."
Three quick answers about crypto art
What is crypto art?
Through an NFT, which stands for non-fungible token, you can buy ownership of a digital work of art. An NFT is a kind of certificate of authenticity linked to blockchain technology that makes it possible to determine who owns the original.
How do you invest?
There are several marketplaces for crypto
art. In most cases, you need to create some
form of crypto wallet, but in some places it is possible to transfer money directly from a
regular bank account.
What are the risks?
The uncertainty. Some of the works of art may have a future and constitute a good investment, others will quickly be forgotten. It is important to get it right.
Thorough research is key
Investing in NFTs is like any other investment – good research usually pays off. So says SEB's Eline B Braathen, Concept Manager Art & Leisure.
What can you say about the bank's new art offer?
"The Art & Leisure concept is part of SEB's new venture, SEB 1856, which offers a range of non-financial services for our Private Banking customers. Right now we are in an early phase where we evaluate which offers and products give our customers the most value. Here, it is important that we get input on what customers actually want and need, but also that we offer something they do not know they need yet. But in general, the idea is that you should be able to turn to us for guidance and support in everything related to art and leisure."
How do you see the new NFT technology, what impact will it have on the art world?
"Through NFT technology, blockchain technology has for the first time been linked to people. In this way, NFTs are a kind of natural evolution. The technology has been hyped a lot, and as it now begins to become more mainstream, it is clear there are many who have strong opinions and thoughts about the future of NFT. But technology has undeniably exposed a whole new group to the art world, people who in many cases would never have ventured into it otherwise. So no matter what the future holds for NFTs, it has had a positive effect on the more traditional art market."
If you are interested in buying an NFT-tagged work of art, what should you as a beginner think about?
"As always, it is incredibly important to do thorough research. You need to understand how NFTs and the NFT market work long before you invest in your first NFT."
Get in touch
Get in touch and we will contact you for a first meeting to discuss how we can help you achieve your ambitions and goals in life.