The Swedish Entrepreneur
Sweden has a long history of innovative and strong entrepreneurship. Being passionate about your business idea and sticking to it is key, say many of the entrepreneurs who have succeeded in realising the dream of owning a company. Value talks to a few of them.
I had ideas to take responsibility for
Cecilia Hillström Gallery is located on Hudiksvallsgatan in Stockholm. At the time we are there, the walls are adorned with David Molander's photographs. An artist that Cecilia Hillström has had in her stable since he left art school.
White rooms, beautiful works of art, a curly-haired dog that wants to embrace everyone. The environment of the gallery is almost as far from a bank branch as you can get. But it was from the banking world that Cecilia Hillström came in 1999. She went to the Stockholm School of Economics and made a career in the world of finance – but then suddenly changed careers, studying art history in New York and Stockholm and entering the world of art galleries. So it's perhaps not strange that she can still feel a little odd as a cultural entrepreneur. After all, it requires a lot of energy to step into a new industry.
"I came from a safe, large corporate environment. Starting your own business was never a given. It is demanding and always feels a little insecure. When I clean the toilet or clean the storage, I sometimes wonder what I'm doing. But I had ideas to take responsibility for. I had to open my own gallery," says Cecilia Hillström.
What were the ideas Cecilia Hillström needed to take responsibility for?
"When I lived and studied in New York, I discovered how culture and finance were closer to each other there. I wanted to combine these two worlds in Sweden: the market and art."
She got into it quickly, learning as she went along. "You must have drive. You have to start somewhere," she says.
After a few years as a consultant at a gallery and art store in Stockholm, she opened Cecilia Hillström Gallery in 2012.
"My background as an economist means that I am good at the organisational and strategic. Contracts with everything in order. Professionalism. I think I'm good to work with, especially for artists. My business model is to work long-term with selected artists. The gallery is not just a place to exhibit at and sell their show – we work as a book publisher or an agent."
Buying art can be seen as luxury consumption, but it is also an investment in sustainability – in both products and people. The long-term perspective, development of the artists and the quality and longevity of the works make the business both an emotional and a financial investment. Some customers have followed the gallery's artists for many years.
"What I love most about my job is getting to be part of an artist's journey, to coach a bit and to see the art develop. It is a very broad job in that respect," says Cecilia Hillström.
Cecilia Hillström Gallery
Business: Represents contemporary artists in all art forms.
Founded: 2012 by Cecilia Hillström.
Employees: 3
It's all about choosing with care
The blood flowing through Mikael Skaj's veins is antique. He is the fourth generation in the family to run Skajs Antikhandel.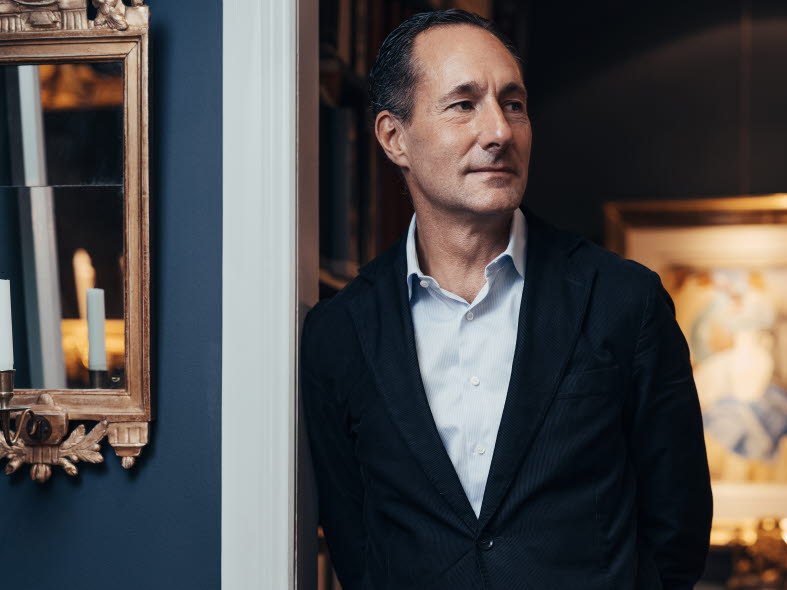 We step into Skajs Antikhandel as one of the possible heirs to the shop steps out with the family's labrador. Mikael Skaj is the fourth generation to run the family business, which sells exclusive antiques and art. The dog-walker is his 20-year-old daughter Hanna, one of three children who could be the fifth to run the business.
"They say the first generation acquires, the second manages and the third corrupts. We have already managed to survive that," says Mikael Skaj with a smile.
"Interest in antiques usually comes with age. Clearly it would be fun if one of the children wants to take over, but it is important that they try something else first. The company is always here for them to fall back on. And if they're not interested, then it's okay. Everything has an end."
Inside the premises on Nybrogatan in Stockholm, it is quiet. A few candles shed quiet light. Mikael Skaj shows us around the antique furniture and art from the 18th and 19th centuries, mixed with his own addition to the antique trade: modern art. A detail that appeals to new target groups who like to combine history and the present in their interior design. Everything is carefully selected. Quality is key, priced accordingly.
Skajs buys its items at auctions, from other dealers and from private individuals, fairly evenly distributed among the three.
The store also collaborates with a dozen of Sweden's best craftsmen when objects need to be restored. Skajs does not sell anything you cannot imagine buying back a generation later. Which also happens. Grandparents have bought, grandchildren have sold back.
"It's easier to sell things you like. It is important to choose with care and knowledge. At an auction, maybe 1,500 items are auctioned, of which I find 20 that are interesting and buy maybe three."
Skajs Antikhandel does not need social media or TV advertising. A well-designed website with good images goes a long way. Such businesses are usually built in the good old-fashioned way – through a good reputation, good service and genuine customer relations. Exactly as founder Filip Skaj did in the 1930s, as did his son, the antiques dealer Max Skaj who was a legend in Sweden, and the generations thereafter. The world is not always as digital as we imagine.
The prime location of the store, opposite the Royal Dramatic Theatre, does not hurt either.
"This is Stockholm's best street, which means that both new and old customers walk past. I love my job, the objects and the people. I speak entirely for myself, but I believe
the antiques and art business in the true sense of the word is by its nature something completely different from the fast-paced activity in portals and online auctions," says Mikael Skaj.
Business: Sells exclusive antiques and art.
Founded: 1933 by Filip Skaj.
Employees: 2 (Mikael Skaj and his wife Louise).
Mathematics makes the boat fly
Candela Speed Boats are called the "Tesla of the Sea." The company's electric boats will revolutionise the boat industry.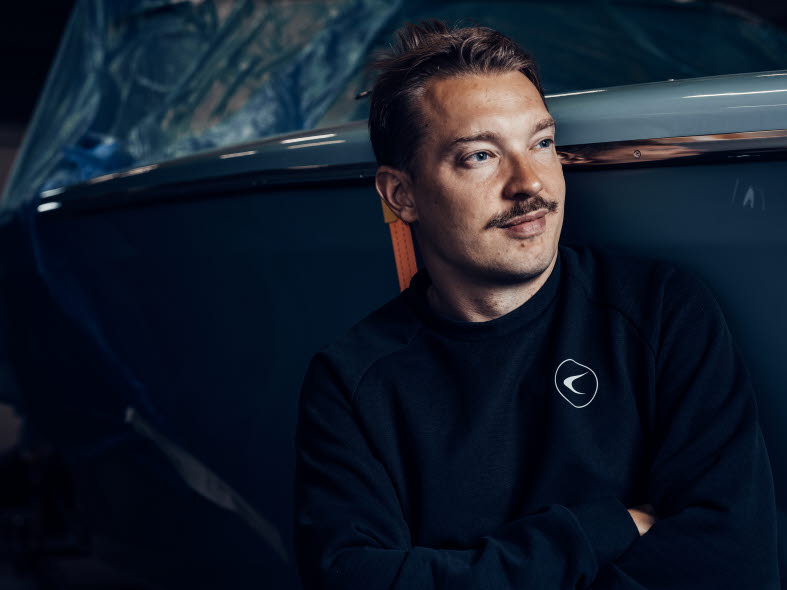 "How does it make sense for us to use a 4,000-pound vehicle, burning dinosaur juice, to move a three-pound pizza across town?" asks Google's star researcher Astro Teller.
Candela Speed Boats founder, engineer Gustav Hasselskog, asked himself the same question, but about boats. He used to take his motorboat to the marina gas station to buy ice cream for his children. The ice cream cost SEK 50. The petrol cost SEK 500 and it destroys nature. It was a lousy equation.
Five years later – after years of lugging "crazy" sketches in a worn portfolio to conferences on electromobility – the leisure boat Candela Seven is now produced on Lidingö in Stockholm.
Lidingö is a classic boat-building area, but that's where the connections end. This flying electric boat has more in common with attack helicopters and violins than with traditional boats. The Economist calls it "the Tesla of the sea."
Communications manager Mikael Mahlberg shows us around the factory:
"Here you see the carbon fibre hull. A normal hull weighs 400 kilos, this one weighs 90. Olivier Philippot, who created it, has previously designed violins and attack helicopters. We have picked the best engineers. We are not a boat company, but a technology company that happens to make a boat."
On the one hand, electric boats are nothing new. On the other hand, they are efficient and these electric boats fly. The crucial question is how to drive both fast and long distances. The answer for Gustav Hasselskog and his team was to drastically reduce the friction in the water. A leisure boat uses 50 times more energy than a family car. Mikael Mahlberg points to a pair of fins attached under a hull. It's the foil – the super ingredient in the secret sauce.
"At 16 knots, the boat flies. Only these two foils touch the water surface. It reduces friction by 80 percent. Ordinary planing hulls need very large batteries to get up to speed at all. Those are heavy, which makes the boat go deeper, which creates even more friction. It's a vicious circle."
Candela Seven broke the circle and can drive 50 nautical miles at 22 knots, floating like a pencil you balance on your finger. Computers, software and sensors make the boat artificially stable. "Math makes the boat fly," Mikael Mahlberg says, describing it further as a "flying math experience" to ride in Candela Seven.
You ride above the water so there are no shocks, no noise, no exhaust fumes, no oil spill."
When TED founder and Wired editor-in-chief Chris Anderson invested in the company, the development of commercial vessels began. The P-30 is a ferry that will change waterborne transport in cities.
"The idea is to be up and running in Stockholm, accessible
by subway card, from 2023. It will save some 50 percent in operating costs on the route Slussen to Vaxholm. Running at
30 knots, it's faster than anything else in today's fleet. There will be no swell after the boat, nothing to disturb the calm," says Mikael Mahlberg.
Business: Develops and manufactures flying electric boats.
Founded: 2014 by Gustav Hasselskog.
Employees: 50
There is a great power in what we do
When a child's feet run across a rug from Vandra Rugs, history and the future are linked. Decades meet, borders are crossed and life is woven together.
"Today's consumers think twice before buying. And one of the things they think about is 'what kind of business is this?' Our customers sympathise with what we do. There is a lot of power in that," says Cia Attling, one of the founders of Vandra Rugs.
The company designs and weaves quality rugs. Carpets grounded in the Swedish weaving tradition, but with a modern touch, they adorn everything from ambitious living rooms in Swedish homes to legendary hotels in France. Carpets that survive generations.
But that's just the end result of their business model. To understand the breadth of sustainability and values that permeate Vandra Rugs, we need to start at the beginning.
In 2005, Cia Attling stepped into Barbro Thessing's basement on Valhallavägen in Stockholm. Barbro Thessing had taken over the carpet division of EMTE Textil, a legendary company founded in 1940 by Edna Martin and Marit Thorén, who, among other things, built up major Swedish interior design company Svenskt Tenn's textile department. Cia Attling was going to buy a rug for herself, but fell in love with everything she saw.
"I got to know Barbro and thought 'can you have this much fun at work'? EMTE Textil had a network of weavers around Sweden. They worked with residual products from the textile industry. Among other things, they made carpets for interior designers and architects, and for Parliament's overnight apartments. There was such potential in the product."
So Cia Attling did what a true entrepreneurial soul does. She asked if she could become Barbro Thessing's marketing department. With a university degree from the United States and a background in the financial and pharmaceutical industry, she was the perfect person to help the company into the future. Then things went fast. Cia Attling took over the company in 2008. Orders increased and they had delivery problems.
"There was no one left in the textile industry in Sweden. We had to buy materials from France."
It was then the second co-owner, Marie Wallenberg Olsson, came into the picture. She had not only grown up on these carpets, she had a recent degree from the Stockholm School of Economics. There she focused a lot on hand-in-hand models, especially entrepreneurship employing poor women. This led to a third co-owner, Larissa Bodén, an economist from Ukraine, who was looking for a project to support women in the Ukrainian countryside.
"At the same time, we had a product with great demand. We asked Barbro Thessing: 'can you imagine educating women in Ukraine?' She was then over 70. 'Oh, what fun!', She replied and went down with the weaver Laila and Laila's husband Harald."
The rest is tailor-made history.
"The ambition was that the carpets would maintain at least the same high quality. And they do! Our employees at the factory down there are so amazingly talented! And they are continuously trained."
But the sustainable model does not stop there. In a traditional carpet shop there are stacks of carpets. Either in the wrong size or the wrong colour. Vandra Rugs tailors and adapts the carpets to where they will go. The rugs are woven to order and everyone takes care of their own waste. Finally, the carpets have a long life.
"The exclusivity is in the craftsmanship, how we produce them. A human being has braided this fringe. It gives the product life," says Cia Attling.
Business: Exclusive hand-woven rugs.
Founded: 2008 by Cia Attling, Marie
Wallenberg Olsson and Larissa Bodén.
Employees: Two in Sweden and 25 in Ukraine
We challenge the model
Let the authors loose, The Book Affair is here! Meet the book publisher that sticks out its chin – for the sake of its customers.
They say an author's most difficult obstacle is an empty page. If you ask Alexandra Torstendahl, the obstacle is actually a rusty calculator. A crooked machine that spits out obsolete contracts. In her head, a shiny new model is spinning instead.
"If you have a small startup with four employees, you have to have that shiny model spinning in your head at all times. Those who work with me appreciate it."
The Book Affair is a new kind of book publisher with a unique business model. CEO Alexandra Torstendahl tells all from the other end of the video call where she is sitting in her apartment full of suitcases. She will work from the historic Swedish medieval town of Visby for six weeks. A journey in the completely opposite direction from the journey with The Book Affair. There, rather than travelling to the Middle Ages, they look to the future.
"I wanted to try to use my drive and talent to build my own company. It was also the right timing. The publishing industry is starting to follow other entertainment industries, such as Spotify and Netflix."
The Book Affair is about being completely on the side of the authors. In contracts and needs. Traditional book publishing models are rigid and expensive for many authors today.
"We challenge the traditional model. It's a lot about distribution. Why should someone who refines a raw material make money? For example, most streaming services make money, while creators get too little."
At The Book Affair, authors invest in themselves and their book publishing. The publisher helps to put the business together with a focus on the more traditional aspects of publishing: editing, printing and sales to retailers.
Marketing and their own channels is where The Book Affairs' authors get to use their own power. The agreements are also written accordingly. No unnecessary efforts that cost the author more than they get back.
Getting yourself out there, breaking patterns and challenging giants can be scary. "Who but a brazen crazy person would go one-on-one with blank paper or canvas armed with nothing but ideas?" as the author Mark Vonnegut put it.
But Alexandra Torstendahl was never worried. The time was ripe. Of course, it helps to have 30 years as a saleswoman in the publishing industry behind you, including 20 years as a manager at Swedish publishing giant Bonnier, among others. At her side she has another experienced Alexandra, with the surname Lidén. A publishing director who has worked in the industry for 25 years.
"She builds the books, contacts the authors, handles print procurement and more. Without her, The Book Affair couldn't move forward. We are two of the three important legs that create success: the salesman, the publisher and the author.
Business: Modern book publisher with
focus on the authors.
Founded: 2018 by Alexandra Torstendahl
and Alexandra Lidén.
Employees: 4
Get in touch
Get in touch and we will contact you for a first meeting to discuss how we can help you achieve your ambitions and goals in life.