We have a long tradition of supporting people and companies and helping drive development. Engagement and curiosity about the future have guided us ever since we welcomed our first customer more than 160 years ago. With value-creating advice, innovation and a focus on long-term relationships, we are changing together with our customers and the communities in which we operate.
1856 – Stockholms Enskilda Bank
With his leg in a splint, after falling in the slush on a street in Stockholm's Old Town, entrepreneur André Oscar Wallenberg founds Stockholms Enskilda Bank. His goal during this period of pioneering spirit in Sweden is to provide inventors and entrepreneurs with capital for industrial initiatives.
1864 – First female employee
Not a day too soon, Alida Rossander becomes the first female employee in our bank and in the global banking industry. As André Oscar Wallenberg put it:"womenfolk possess attributes of orderliness, conscientiousness and perseverance not inferior to those of men".
1864 – Skandinaviska Kreditaktiebolaget
Danish financier Carl Fredrik Tietgen, in cooperation with André Oscar Wallenberg, founded Skandinaviska Kreditaktiebolaget. The new bank was a competitor to Stockholms Enskilda Bank.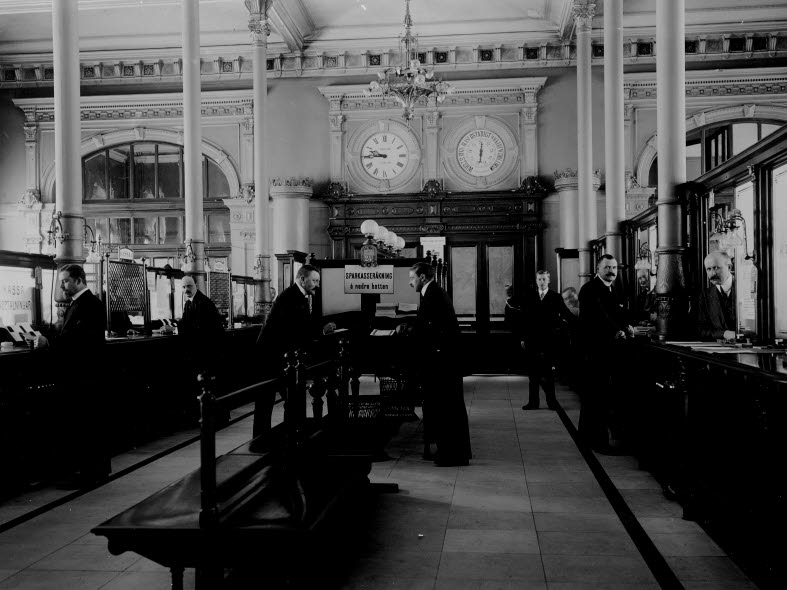 1878 – By our customers' side
The industrial revolution is followed by an international structural crisis. The bank is dragged into the economic downturn and is forced to choose between declaring some companies bankrupt or actively helping them get back on their feet. In many cases – Atlas Copco is an example – the bank decided on the latter course of action. Still today, we are there for our customers in both good times and bad.
1927 – Supporting entrepreneurs
Sven Wingquist, inventor of the ball bearing and founder of industry giant SKF, was an early customer of SEB. When his co-workers Gustaf Larson and Assar Gabrielsson want to build a machine based on his inventions, SEB also helps out. The company is called Volvo, and the first car rolls out of the factory on 14 April 1927.
1930s – International recession
Skandinaviska Kreditaktiebolaget incurred heavy losses as a result of the international recession and the Kreuger crash. The state provided 215 million kronor in loans to the bank and it took four years to pay the money back. In 1939 the bank changed its name to Skandinaviska Banken.
1972 – The merger
Stockholms Enskilda Bank and Skandinaviska Banken merge to become Skandinaviska Enskilda Banken, a name that is later changed to SEB. A key rationale for the merger was to give the banks a better chance to meet growing international competition.
Early 1990s – Overheated economy
The Swedish economy became overheated in the 1980s, causing a severe economic crisis at the beginning of the 1990s. SEB faced losses but survived without state support and could continue to stand by our customers' side like we always have, in good times and bad.
1996 – Birth of the Internet bank
SEB becomes one of the first banks in the world to provide all its services on the Internet for private customers. After
just a couple of weeks, the bank has 40,000 Internet banking customers, and today the majority of our customer interactions are digital, which in turn frees up time for in-person meetings.
2000s – International expansion
We have a long history of following our customers as they expand internationally. In the early 2000s, we expand our home markets to also include Germany and the Baltic countries. More than half the bank's workforce is now employed outside of Sweden and today, 20 years later, SEB is represented in 20 countries.
2008 – The first green bond
SEB works together with the World Bank to create the first green bond, earmarked for projects in developing countries aimed at reducing carbondioxide emissions. As a bank we have an important role in the sustainable transition and work actively to support our customers and contribute to a more sustainable world.
2008 – Financial crisis
The Baltic economies were hit exceptionally hard by the global financial crisis. SEB expressed a strong commitment to support core customers to protect long-term relationships and preserve collateral values. This included the strategic decision to enable private individuals to remain in their homes as far as possible, by supporting households that had taken out a loan to buy a home that they lived in. The programme, called "keeping families in their homes", was carried out for thousands of families in the Baltic countries.
2020 and onwards – Supporting our customers
With the effects of the Covid-19 pandemic hurting people and businesses, we are doing our utmost to support our customers. We are standing firmly by their side – just as we have during previous crises – and are continuing our work to create long-term value for customers, employees, shareholders and the communities in which we operate.