Time to Raise provide new ideas to take place
The goal of the Time to Raise initiative is to change the financial landscape for startups. Through training, mentorship and contacts with investors, female entrepreneurs and, above all, their ability to raise capital, are promoted.
Cilia Holmes Indahl from Eqt Partners is a mentor for the Time to Raise program. The reason being that she wants to ensure that more women start companies - but also that there is nothing quite as "sexy" as a good business model, she says.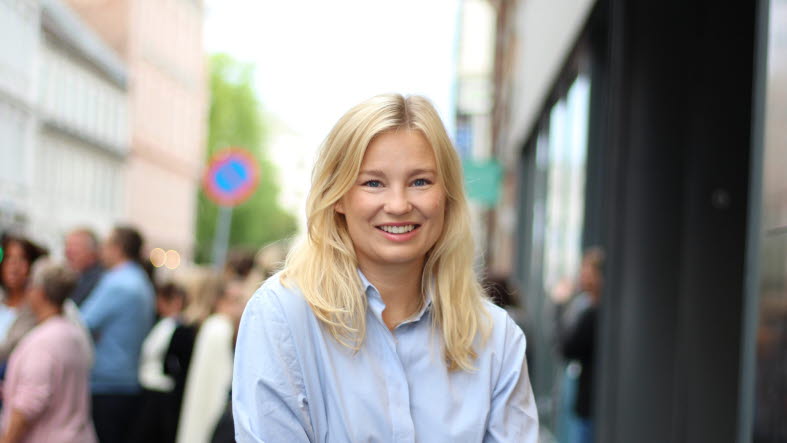 "When I find a good business model, I just feel, wow! It might be a model with an "impact" on the world and has a financial plan that will work in the market. This is also the thinking behind the Eqt Foundation. We have a lot of expertise and capital, and we want to enter at a very early stage to ensure that the innovations reach the market," says Cilia Holmes Indahl.
One of the attendees of the Time to Raise program is Maria Barklund. She started Videm in the Autumn of 2021, a company that develops fast and accurate diagnosis of infections. The test can be used directly at health centers or at home, and provides reliable test results within an hour.
"With this test we can streamline the flow of care and implement the right treatment quicker and prevent the spread of infections and antibiotic resistances. The technology is based on seven years of research in chemical and bionanotechnology," she says.
Good role models
Maria sees the fact that Time to Raise focuses on female startups as an advantage. Historically, men are the founders of companies. This has created a predefined image of what an entrepreneur is, Maria Barklund believes.
"But it feels like a change is underway. More women start companies, more become engineers, programmers and more. In general, it feels as though more people are starting companies, thus more women are included."
But as with so much else, it is easier to follow a path that someone has taken before, Cilia Holmes Indahl explains.
"When it comes to gender equality, it is about getting good role models, which I think many young women will have in 10­–15 years. But then an extraordinary effort must be made for a period of time. Programs, such as Time to Raise provide the opportunity for new ideas to take place, she says.
"Very tangible"
During the eight-week program, the founders get to meet both mentors and lecturers. They can also book separate meetings with each of them - an opportunity that Maria Barklund sees as very difficult to achieve otherwise.
"It is a chance to exchange questions and answers with someone who has experienced different parts of the business. I was so inspired by Cilia's lecture, which was about circular business models. So I booked a follow-up appointment with her."
Together, they discussed various business models and issues that Videm faced. After that conversation, Cilia introduced Videm to an investment team at the Eqt Foundation.
"I did not know that Eqt entered at such an early stage, but now they have invested in us. This was something very tangible that came out of the program. Had I not been interested in business models, and had Cilia not been as responsive and curious as she was, this opportunity probably would never have happened," says Maria Barklund.
Share insights
To be a mentor is to contribute and complement your own experience towards other people's ideas, says Cilia Holmes Indahl. For example, asking the right questions that allow a business model to become more "bullet proof".
Maria Barklund agrees: "I think it's super important. The reason I applied for Time to Raise was because good people were involved. You can always learn a lot from others."
It is not only an opportunity to receive information from talented lecturers and mentors, but also a chance to be able to share insights with other founders.
"Most people who start companies go through the same experiences. Being able to share those experiences with others makes you feel less alone," says Maria.
Encourage initiative
The company Videm has recently closed its first investor round and withdrawn just over five million SEK. In a year, it will probably be time to recruit and build further, Maria thinks.
"I hope that everyone wants to get involved in issues that are important, whether it is about gender equality, climate, health or something else. We have had a pandemic, there's ongoing war and a climate crisis. Life is too short not to get involved. However, it is important that you contribute in a way that fulfills you."
Being an entrepreneur is more important than ever. Cilia Holmes Indahl thinks that new technology is really needed right now, as well as innovations that can contribute to and create new jobs across society.
"We have a responsibility to encourage young people to dare to take initiatives to embark on a journey like this. If you have expertise or competence, share it. There is no need to wait."