Time to Raise ­– the change for female startups
Time to Raise is a program where female-founded startups meet mentors. One of the mentors is Peter Settman. He is behind the American Song Contest, among other things, and is convinced that the future solutions are in the hands of the new generation. "You have to be open to new ideas," he says.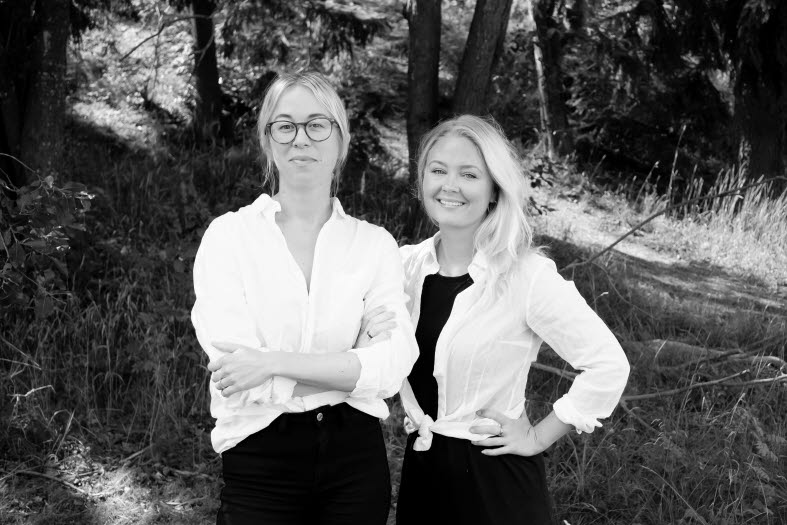 Amelie Saltin Thor and Sandra Kinnmark participated in the Time to Raise program in the Autumn of 2021. They launched their company NOS, No Ordinary Scent, in 2020. An emotiontech startup, NOS allows you to create your own personal perfume. By using scent as a way to gain a deeper emotional connection to experiences, the startup's vision is to enable the internet to feel more emotion.
"When you pass a fragrant bakery, it might take you back to when you were two, three years old and grandma baked homemade treats. This primal brain connection makes scent our absolute strongest sense," says Amelie Saltin Thor.
Right in time
Amelie and Sandra met working at a startup and quickly realized that they complemented each other and had a lot of fun together. Sandra is the visionary and Amelie can concretize and roll-out concepts. For them, Time to Raise came just in time. They were looking for mentors with different perspectives to support their path forward. The program provided the benefits that they were looking for.
"The biggest challenge today, as a female founded startup, is to get a foot into the room to pitch. Many of us have business models that have not been visible before, for example within femtech (compared to e.g. fintech or edtech, which is a well-known segment) and so it can be a challenge for investors to see the potential – especially as many investors are men," says Amelie.
"Time to Raise, with Peggy Poon and Jens Ingelstedt's expertise, opened doors and gave us an opportunity to have conversations with many interesting investors. In the end, we successfully created a sense of FOMO, and it became a bit of a competition who could invest in us first. Now we have Icebreaker VC on our capitalization table. As well as Anna Felländer and Filip Bonnevier, to name a few. We are incredibly proud of our investors and the journey we have embarked on together."
Challenged and questioned
The best thing about a mentorship is that you are challenged.
"I am empowered by being challenged and questioned. When Sandra and I finished the Time to Raise-journey, we were full of confidence because we had worked through things like pitching, questioning each other, business models and more."
Without Time to Raise, they would not have been where they are today, states Amelie. They have received an investment from a Venture Capital company with the opportunity to bring their vision to life.
"Now it's all about putting pedal to the metal. We're employing and refining our production. Everything in the coming years will be about focusing on D2C. We have raised our capital and can focus. It feels fantastic to be able to further refine this journey and build our brand. We are now in Finland, Sweden, and Denmark, and after the summer we will launch in Germany, France and the Netherlands."
Mentor Peter Settman
Peter Settman believes that the reason he was asked to be a mentor at Time to Raise is a combination of his background and what he does today. Currently he actively runs several companies and is responsible for the project that will launch Eurovision in the USA as the "American Song Contest".
"I like business and entrepreneurship, given that I am one myself, but with my slightly different background, I look at it from a new perspective,'' he says.
Why does such a small portion of capital raising go to startups with female founders?
"There could be several reasons. It comes down to the individual, of course, but also the fact that there are more men in power with money. Men know men and do things together. And so there is no natural place for a woman to be involved. This is of course not the way it should be, but I think that's one explanation."
How do we change this?
"I believe that initiatives, like Time to Raise can contribute to such a change. However, to bring about change is also about involving new generations and initiatives. This happens at an early stage, as early as in school. The more we emphasize equality, as well as directing an effort towards female entrepreneurship, the more it will pay back. This is what I hope and believe to be true."
What has the mentorship given you?
"In addition to being fun and inspiring to be able to inspire others, it is absolutely wonderful to have an outlet for all the experience I've built and created over time. I'm very much a "self-starter". Once I get going, it's hard to stop me. That is probably my biggest challenge being a mentor.
In what way have you supported?
"I think that all the projects I have listened to, and many of the entrepreneurs I have spoken with, have me really engaged in both their business concept and personality. As a mentor, it is also important to know that you cannot do the job for another entrepreneur. Then it's not right to begin with."
What lessons will you take with you?
"If there is one thing that really got me going during the last Time to Raise it was that the future solutions lie in the hands of the new generation. I've learnt the importance of keeping a high level of innovation in my own companies. As soon as you stop having an innovative mind then it becomes a problem for the business."
Finally, what do both of you want to say to those who are considering investing in a startup?
"It's about daring. To be involved in creating the future, as an investor you also need to be open to new types of business models and ideas. And above all: be able to identify an ambitious, serious and committed team. The team is everything!" says Amelie Saltin Thor.
"If you are interested in investing, do so in the subject or products that have a clear business model, and that you find interesting. And most importantly, the person or people. The latter is a cliché but it is true. If the people are the right people, you can screw up everything else," says Peter Settman.