Spotlight
– live intimate interviews with SEB experts on SEB Career Instagram
– live intimate interviews with SEB experts on SEB Career Instagram
Employee interviews live on Instagram
SEB Spotlight is a series of live interviews on SEB Career Instagram during which you have the chance to ask questions to our guest in the live feed.
The purpose is to provide engaging perspectives on work life at SEB, different career opportunities, and the bank's important role in society. We hope you will join us to ask your burning questions, since it's a great way to satisfy your curiosity about the financial industry!
Martina Wallenberg, Head of Open Banking, is the moderator and start every session by asking a few questions to the guests to put them on the spot.
To watch SEB Spotlight live, please follow SEB Career on Instagram. You will receive a notification before the event starts. In addition to the live broadcasts, in SEB Career you will find exciting employee stories from around the world and local Employer Branding-posts from the bank's different sites.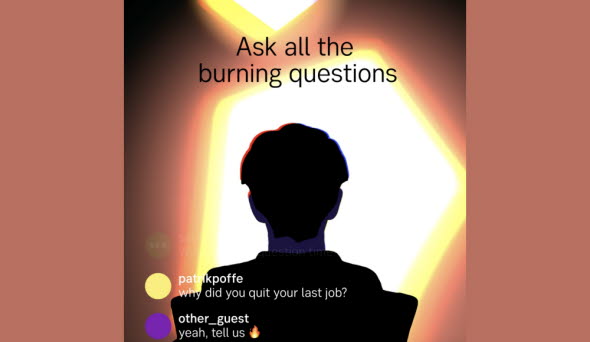 Watch our previous episodes:
26 January, Fredrik Josefsson
Fredrik Josefsson, Head of Entrepreneurs and High Growth at SEB will join our Spotlight the 26th of January Fredrik has a broad background from various industries and markets with primary focus on scaling, and driving growth, from large corporates as well as from own companies Fredrik brings a solid growth perspective to the entrepreneur dialogue.
24 November, Aleksandra Pitucha
Our November guest will be Aleksandra Pitucha, Head of Quality Assurance in our Warsaw office. She has had an accelerated career in one of the most critical areas of the bank, Anti-Money Laundering, and works in our exciting Global Business Center.
27 October, Eugenia Victorino
In the October SEB Spotlight we get to meet Eugenia Victorino, who is the SEB Head of Asia Strategy and also a frequent speaker at major international media outlets like Bloomberg TV, CNBC, and BBC. In her role Eugenia has a focus on macro and FX strategy research on China and the rest of Asia Pacific Region.
4th May, Johan Torgeby – From student to CEO
In May, the guest in SEB Spotlight was our CEO, Johan Torgeby. Having achieved huge success in his career, Johan joined us for a candid look back at his journey from Lund University to the top executive at a large global bank.
April 27, Talent Mangement at SEB
In April, we have a special SEB Spotlight as it will collaborate with Södertörn University, and they will be moderating the LIVE Instagram recording. Our guests will be Alexia Bohm and Louise Nachtweij from Talent Managment at SEB. They will respond to questions from Södertörn University students about the SEB recruitment process and much more.
Thursday 31 March
Our March Spotlight guest was SEB Spotlight will be our Household Economist Américo Fernández will talk about personal finance topics, including savings and pensions and the housing market. In light of Russia's invasion of Ukraine, Américo will also discuss how the tragic events unfolding in Ukraine will impact the Global and Swedish economies and what effect they could have on households.
Thursday, February 24
Our February Spotlight guest was Head of SEBx, Christoffer Malmer, who joined us to talk about his passion for banking, extensive international career, and SEBx. SEBx as SEB's strategic initiative, which focuses on new technology, alternative platforms and future customer offers. How can innovation be accelerated through SEBx?
Thursday, November 25
Our November Spotlight was a special episode with external guests joining - the Finnish Influencer duo Mimmit Sijoittaa. Mimmit Sijoittaa (translated as "females that invest") and the influencer duo consisting of Pia-Maria Nickström och Hanna Tikander wants to inspire more women to invest. Pia-Maria has been studying at Svenska Handelshögskolan in Helsinki, Hanken. She founded Mimmit sijoittaa blog in 2018, and it has since grown into a multi-channel financial media company. Hanna is a co-host in Mimmit sijoittaa podcast and the main producer in Mimmit sijoittaa events. Since the beginning of this year, SEB has collaborated with Mimmit Sijoittaa to increase women´s interest in the financial industry.
Thursday, October 28
Our October Spotlight features Gabriel Lundström, Head of Sustainability, C&PC and Life who will talk about why sustainability is one of the most important and "on the agenda" topics around the world and is becoming one of, if not the most important topic facing the financial industry.
Thursday, September 30
Our September Spotlight featured Mia Hamstedt, Chief Inclusion & Diversity Officer, who will talk about why inclusion and diversity are critical topics for SEB and what we're doing about them. We'll asked her about challenges we're facing, the financial industry's reputation, and solutions for the present and future.
Thursday, August 26
Meet Justas Jonikas, Head of Transaction Services New York, who has had an incredible international career at SEB. From Lithuania to New York City, Justas has a great story and will join us to share advice and insights about global opportunities, accelerating your career, and SEB.
Thursday, June 24
Meet the Director of SEB Innovation Lab, Adam Österman. SEB's Innovation Lab gives our employees the possibility to work on their ideas and create new solutions for our customers. How does a workday in SEB's Innovation Lab look like? How do you define "Innovation"? How did you end up in the Innovation Lab?
Thursday, May 27
In recognition of Diversity Month in collaboration with Diversity Charter, we focused our May Spotlight event on Paula da Silva, our Global Head of Transaction Services. As one of our top managers who has worked all over the world during an extensive career at SEB, she has a great perspective on the diverse, international scope of SEB, positive changes that are occurring, and the challenges we still face. What does diversity mean to you personally, and why is it important? What can be done to encourage more women to join the industry?
Thursday, April 29
Meet our new Global Head of Marketing and Communication Karin Lepasoon, also a member of the SEB Group Executive Committee. Karin started in SEB in November last year and had before that a similar role at the energy company Vattenfall and a lengthy experience working with communications at large companies. "I have always worked with some type of journey of change in the companies where I have been."
Listen in to learn more about Karin's background, what attracted her to SEB and her first impressions of the bank. Why did you choose SEB? How is the communications landscape changing in a digital world? What will the marketing and communication at SEB look like in the future?
Thursday, March 25
What drives cybercriminals? What are their methods and goals? Questions like these make Ulf Larsson, Group Chief Security Architect at SEB Technology, go to work in the morning. In recent years, he has seen a clear trend in that cyberattacks not only occur more often; they also create more damage compared to earlier.
Thursday, March 11
Watch our extra episode of Spotlight taking place the same week as International Women Day!
We have the honour to welcome Belgin Alalinli who works as Head of Entrepreneurs and Start-Ups at SEB and has encouraged numerous young talents and especially women to become entrepreneurs.
How do I do to start up my own company? How could SEB help? What're the most common mistakes?
Thursday, February 25
On February 25, we welcome our Chief Data Scientist Salla Franzén, for an intimate interview.
What is the latest within AI? What does a Chief Data Scientist actually do?
Thursday, January 28
In the very first episode on January 28, we have the honour to welcome SEB's Global Head of Talent Acquisition, Sam Joukhadar, as our guest.
What is the most important thing to think about when applying for a job? What makes you stand out?