"We are on a cool journey, and the development has just begun"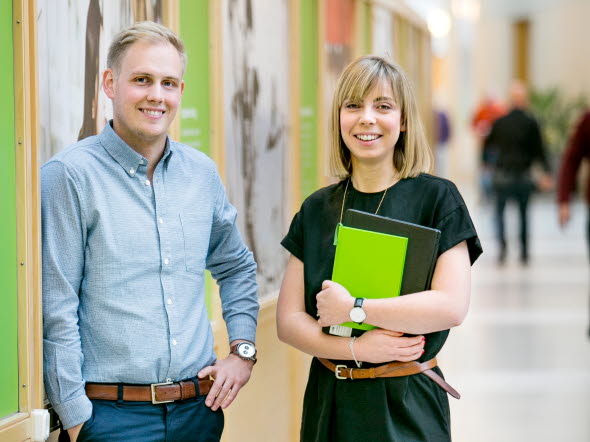 At SEB there is a strong heritage of entrepreneurship, international outlook and long-term perspective. The bank was founded in 1856 and has recently developed towards an "IT company".
– The width and size of SEB attracted me, says Victor Edsund, who joined SEB via the SEB IT Young Professional Programme. Today, he works as Global Process Owner for the Request Fulfillment Process, including for example managing IT orders.
Victor's colleague Caroline Alvtegen works as Project Manager within the IT-organisation providing IT services and developing the IT environment. Her first contact with the bank was when working extra during her studies and after taking her exam she participated in SEB's International Trainee Programme.
– During my studies I got a good picture of the corporate culture, which I liked. I got the feeling that SEB matched my values, she says and continues:
– The trainee year gave me a good overview of the bank and it was above all a fun experience - one of my best years.
What are you doing at SEB?
Victor: – I am responsible for the "Request Fulfillment" process, ensuring that this work is complied with the process, as well as having an advisory role in various dialogues within the organisation. I also work with Caroline in a project called Amelia, which deals with cognitive artificial intelligence, or rather, a robot with the ability to learn.
Caroline: – The result of the project will be the first interface that the customers will meet. We are still in the layout process of how it will look like.
Forefront technology, but maybe not everyone sees SEB as an IT company?
Caroline: – We are like a big IT company using very exciting technology - to connect people with technology. I like when these two worlds meet, how humans work in harmony with technology.
Victor: – It is a cool journey we are on, and the development has just begun.
What do you think of the development opportunities in SEB?
Caroline: – There are many opportunities for development in SEB. Taking the next step is very much up to yourself and what you are interested in. For me personally, I want to stay on this exciting digital journey.
Victor: – There are many different doors, for me the Amelia project is very exciting. There is an enormous amount happening in the artificial intelligence area and I would very much like to explore this more - it's the future.
About Victor and Caroline
Victor Edsund
Title: Global Process Manager.
Education: Systems Science, University of Gothenburg, 2011 exam.
Caroline Alvtegen
Title: Project Manager, IT Services.
Education: Master of Science, Lund University, degree 2014.