"At SEB I received confirmation that my knowledge has value"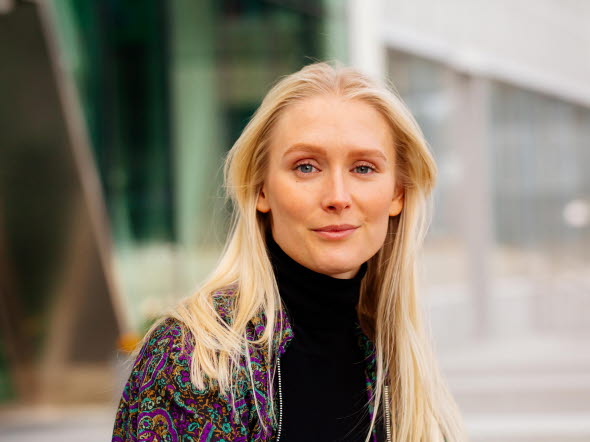 Eva Elling works as a cognitive integration developer at SEB – a role she got by participating in SEB's tech programme. Daring to be brave has been part of her journey.
Eva Elling went from art studies on Öland to vehicle engineering studies at KTH Royal Institute of Technology. Courage and a boost in self-confidence took her onward to SEB's tech programme. Today she loves her role as integration developer in cognitive. AI – and the fact that she can wear sneakers at work.
Why did you start at SEB, and what brought you here?
"During my third year at KTH I attended a breakfast event arranged by SEB, which whet my appetite. Later, I mustered up the courage to talk with our Chief Data Scientist, Salla Franzén, when the time came for my Master's thesis. By then I had met Salla at a few events – I really looked up to her and wanted to seize the opportunity to learn from her and her team's knowledge."
You were accepted to SEB's tech programme – tell us more!
"Toward the end of my studies I applied for the trainee programme to gain an opportunity to gradually move into work life. It ended up being SEB's tech programme since I already got along very well and have a long-term goal to work in the data science field. The role as integration developer for cognitive AI sounded exciting, but I am not a data scientist at the core and did not think I would get it. But I mustered up the courage again, applied – and got the job!"
"We had to apply using an anonymous CV"
What did the tech programme mean for you personally?
"I have received confirmation that my knowledge is valuable, and with that I got a boost in self-confidence. During that half year I also had time to reflect about what I wanted. Recently I also got the change to represent SEB at Women in Tech – a technology conference for women. It was very inspiring. I think it is valuable to be able to identify myself in people who I look up to, which I didn't expect when I started at SEB. But we have many super-talented tech women!"
What is your role today at SEB?
"I integrate systems with our knowledge flows. In short it involves creating machine learning algorithms that search for answers to questions submitted to our virtual assistants. For instance, if a colleague has been locked out of his or her computer – then Aida can help them. I create the answer she gives you along with the related processes, which we then build algorithms for. To evaluate and see what we can improve, I also perform data analyses and visualisations. I am also studying new assistants and am learning more about our Data Lake solution, which is where we store our data."
How does sustainability fit in with your work at SEB?
"For me, sustainability mostly means caring about people, working with inclusion and striving for diversification, and my boss is very engaged in this. For example, in the first application round for the tech programme, we had to apply using an anonymous CV, which did not reveal any details about who you are. And my team is very diverse, which is great! We perform better when we have different perspectives."
About Eva Elling
Title: Cognitive Integration Developer.
Education: Civil engineering/vehicle engineering, Master's in Applied Mathematics, KTH Royal Institute of Technology 2019.
What advice would you have given yourself when you were new on the job? "When you apply, do your best and don't be hard on yourself if you don't get the job. A 'no' can be due to just about anything!"