An Internship possibility at Debt Financing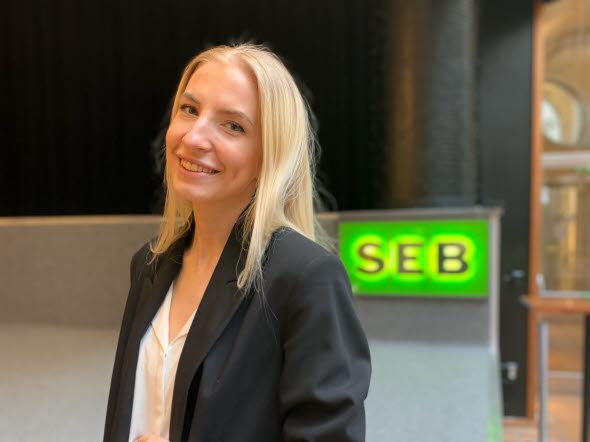 Filippa Holmlund is an M.Sc. student in Accounting, Valuation, and Financial Management at Stockholm School of Economics who works as an intern in SEB's Investment Banking group.
She took the time to share about her experience and why she decided to pursue an internship with SEB.
This year has been tougher than usual, due to COVID-19, especially for new people joining SEB. How has your experience been in spite of that?
Despite the pandemic, SEB has really succeeded in making us interns feel like we are a part of the team. The tasks have remained interactive, and it is evident that my colleagues are making an extra effort considering the circumstances.
The culture is part of feeling welcomed too. It's very warm and friendly, and the overall feeling I got from the team is a mixture of curiosity, ambition, and humility. That culture combined with the focus of my internship has been a perfect match for me.
Why did you choose SEB for your internship?
Initially, I was attracted to SEB because of its impressive track record and the great things I heard from peers. Given risk assessments and leveraged buyouts are two areas I see myself pursuing a career in, I felt like it would be the perfect opportunity for me to gain real experience and learn from the most knowledgeable people in the industry.
I would also say that SEB's internship offers more autonomy than my previous experience, which is both rewarding and demanding, and it creates an exponential learning curve. I get to learn from live transactions and have access to a unique network of knowledgeable and friendly individuals, which is extremely valuable for the future.
What's something that jumps out at you about SEB that you didn't realize before you joined?
SEB's commitment to sustainability and innovation played a part when I decided to join the company, as I believe that there is a strong correlation between innovation and performance. However, over the course of the internship, I was positively impressed by the extent to which SEB emphasises sustainability and how it is integrated into daily work tasks. It's critical for organisations today to stay competitive for clients and talent, and I personally think SEB has succeeded in integrating a sustainable approach both into tasks and the employee mindset.
What will you take away with you from this internship?
I have been so pleased with the opportunity to take an active role in live transactions alongside, which has accelerated my development. I have developed practical skills related to data gathering, modelling, and assessment of debt capacity and companies' ability to fund growth. The mixture between quantitative and qualitative analysis has been perfect for me. I plan to take these skills with me in a career where I hope to understand complex businesses and predict value and risk.