"We are like an internal innovation agency in the bank"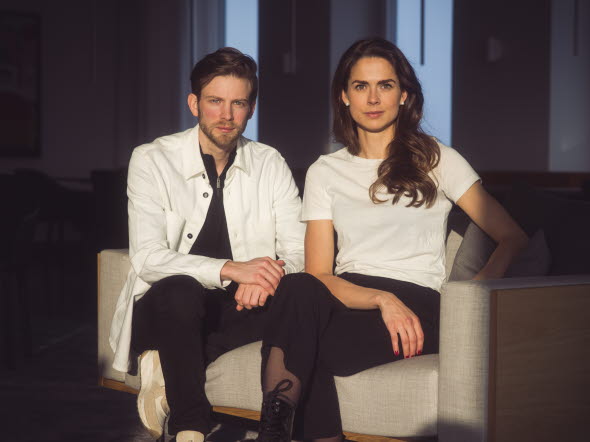 They agree completely. The best thing about Innovation lab is being able to work with all the knowledgeable and inspiring people. Furthermore, the processes that the lab instigates create major value. Adam Österman and Sofia Öquist are in the right place at SEB.
Adam Österman has always had entrepreneurship in his veins and Sofia Öquist has been driven by challenging preconceptions and finding new business models ever since she did her internship during her studies. Together they now run the SEB Innovation lab which is like an internal innovation agency in the bank.
"The absolutely best thing is when our colleagues emerge from 'an innovation lab' and say that 'this is the most enjoyable experience I've had in the bank'. Getting that sort of feedback is fantastic," says Adam Österman.
Building an innovation culture
The lab was founded in 2015 following an inspiration trip to San Francisco where the big tech companies work in different ways to take advantage of their major asset in innovation work – employees. During the first years, Innovation lab was run as an internal entrepreneur programme where employees could develop their business ideas.
Since 2018, work on building an innovation culture, creating intrapreneurs and finding new business solutions in the bank has increasingly been redirected to include business development together with major customers.
"To find the next business model we need to research new ways of combining our solutions with customers. We must challenge conceptions of how things are done today. It is a lot about technology, such as AI, and how new business models can be applied to it," says Sofia Öquist.
Innovation works starts with the employees
Internal innovation work often starts with an initiative from an employee who wants to explore an idea or solve a problem together with a customer. Innovation lab brings together skills from different parts of the bank and designs a method for approaching the challenge in the best way.
The core of the process is that the more perspectives and experiences that are gathered in a project, the greater the chance of success in finding the really innovative services.
"We talk about positive friction. In a group which has never worked together before there will be a lot of friction before the group accelerates and gets going. When you have got past the first step – that is where the great ideas are born," says Adam Österman.
A key part of the assignment is to loosen the traditional divide between IT and business. In a hackathon, the bank's IT employees are brought together with other skills to see problems and solutions with new eyes.
What is critical for an initiative like Innovation lab to succeed in a large organisation?
"That there is a well-grounded understanding that innovation is the key to a company's ability to change. That there is drive and commitment in top management which provides a clear mandate to drive, test and develop new initiatives," says Adam Österman.
What is most rewarding about working in SEB's Innovation lab?
"Being able to work with many skilled people in the bank and other companies. No working day is like another and there is a steady stream of new things that need to be evaluated and which we need to understand. All the commitment contributed by everyone spreads like a positive spiral that has a major value impact," says Sofia Öquist
How do you see SEB Innovation lab's future development?
"We think about this a lot. About the capacities we need, the strategic areas that the bank needs to focus on. There is just so much we must take into account when setting our strategic agenda and preparing for the future. It is basically about how we further strengthen our innovation capacity and co-creation with customers and partners," says Sofia Öquist.