"I am driven by curiosity and a desire to grow by learning new things"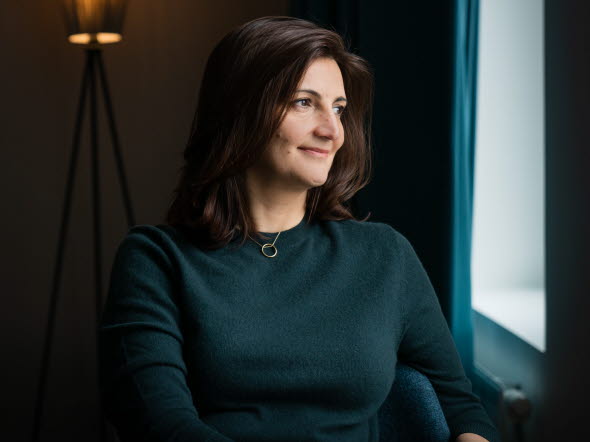 She grew up in Turkmenistan, with a Persian background, speaks Russian as her native language, and has spent more than half her life in Lithuania and Sweden. Meet Zamira Grigienė, responsible for SEB's talent programme. "I am driven by curiosity and a desire to grow by learning new things," she says.
Zamira has worked at SEB since 2016, first in Vilnius, and then since 2018 in Stockholm. She is responsible for the bank's trainee and tech programme.
"My mission is to make people shine and I am happy it has become a big part of my job," she says. "I encourage our newly joined young talents to continuously learn in order to develop their full potential and make our world a better place".
Her path to SEB was hardly straight or obvious, however.
Zamira Grigienė was born in the mid-197s in Ashgabat, the capital of the then-Soviet republic of Turkmenistan. She is of Persian heritage but doesn't speak the language and was raised speaking Russian.
"I grew up with Russian culture and traditions in school and university.," Zamira says.
She obtained a Bachelor's in the English language and literature at the university in Ashgabat. By the time she graduated, the Soviet Union had dissolved, and she began working as a professional translator for international companies doing business in the country.
"In my twenties I felt happy with a full-time job with good pay and had no thoughts this would change."
A few years later she met her prospective spouse, who was from Lithuania. They moved to Lithuania in 1996, and there Zamira found herself in an entirely new situation.
"I couldn't speak the language, no one knew who I was, and previously acquired competences were not in demand. So I decided to change directions and give myself a new start. I began developing a growth mindset – a belief that one can grow through effort, trying new strategies and seeking help when necessary."
Zamira got a job as a receptionist at the audit and advisory company Ernst & Young in Vilnius – an attractive position with an international company. But she didn't stop there and studied on her own to become an accountant. After five years with Ernst & Young she moved on to various management positions for companies in other sectors.
This was followed by five years in Moscow, where Zamira moved together with her husband, who is a diplomat. But instead of remaining idle as a diplomat's wife, Zamira got a Master's in Marketing Management at the university in Moscow.
"I never had any thought about working for a bank or in HR," Zamira says. "But then I happened to see an ad where SEB was searching for a specialist in learning and development. It caught my attention with a thought that learning can become my everyday job."
As responsible for SEB's talent programmes her work involves creating a coherent learning ecosystem to foster the growth and development of a very diverse group of young talented people In this regard the corona pandemic has presented a new challenge, since this year's programme has largely had to be conducted remotely.
"It's a new challenge, but also an opportunity to learn something new," she says.
About Zamira Grigienė
Title: Programme Manager for SEB's trainee and tech programme
Education: Bachelor's in English language and literature from the university in Ashgabat, Turkmenistan. Master's in Marketing Management from the university in Moscow
Personal interests: Interested in everything involving nutrition, health and longevity. Curious about neuroscience, copious reader on the topic.