A week-long camp helping teens find their inner entrepreneurs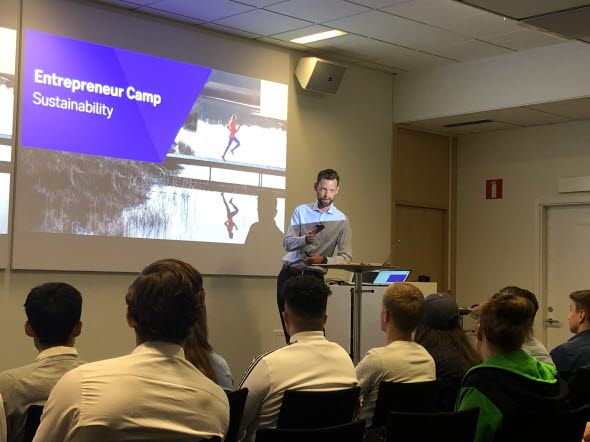 In 2017 the first round of SEB's Entrepreneur Camp was held and it has since proved a great success. The camp could be described as a week dedicated to inspire, teach and equip young people with a valid set of tools, within the field of entrepreneurship.
More than four hundred 16 to 19 year-olds have so far participated in SEB's Entrepreneur Camp, in different locations across Sweden. But whether or not these emerge from the camp as fully-fledged entrepreneurs is not that relevant, according to Belgin Alalinli, Head of Entrepreneurs and Start-ups at SEB, and initiator of the concept.
"We want to help them find an entrepreneurial mindset, irrespective of if they want to move on by starting their own business or not. This type of creative and forward-looking approach is useful not only as an entrepreneur, which is something many employers have now started to pick up on."
Belgin also points out that the camp has been successful in attracting young people of different backgrounds and interests, creating a high degree of diversity among the campers.
A quick and easy method to develop an idea
The camp is based on the Lean Startup methodology, which is a technique to quickly develop an idea and get it ready for the market. The idea is defined more clearly through a series of standardised questions, followed by gradual concept testing to further improve it.
During the five days of the camp, the participants get to outline their own ideas and start working on them in small groups. The camp ends with a pitching session, where all groups present their final results in front of an expert jury.
Meet one of the participants
Polina Otto participated in Entrepreneur Camp in 2017. Together with Alexandra Sandberg she now runs Carrus Network, a company that focuses on giving ambitious people under the age of 24 a chance to network and develop themselves.
"SEB's Entrepreneur Camp has given me so much – both in terms of insights and inspiration. The biggest learning for me, however, was the can-do-attitude I got from the camp", says Polina.
Carrus Network arranges get-togethers and seminars on themes such as entrepreneurship, tech and personal development.
Further development of the concept
After its success, the Entrepreneur Camp concept has been adapted and used in new contexts:
During the 2020 corona pandemic, SEB joined the initiative Beredskapslyftet, aimed at remediating the negative effects on the labour market. For young people not able to find jobs or internships due to the pandemic, SEB contributed with a course in entrepreneurship. The course was based on the methodology of the camp and held in both Stockholm and Gothenburg.
SEB has also developed a full day work shop about entrepreneurship titled Become your own boss. The work shop is intended for schools and children around 15 years old. It is based on filmed material, guiding instructions for tutors and, of course, the methodology of SEB's Entrepreneur Camp.